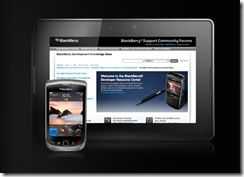 It's a simple question that we probably can't answer until the devices reach experienced hands. The Blackberry Playbook was announced this evening and despite the rather humorous and consumer-sounding name promises a "high fidelity inch web experience.
CPU and screen details sound promising so if it really can offer a full internet experience this could be one of the first ARM-based tablets to offer an alternative to Windows-based tablets for Web-application users.
No keyboard, no 3G, unknown storage, unknown removable storage and a lack of information about apps and the app ecosystem will probably mean 'hold on' for almost everyone but lets keep an eye on this because there's a definite lean towards productivity here.
The name and form factor smacks of 'sofa' so it's highly likely that this isn't your swiss-army knife.
Full specs along with images and comparison now available through the product database.