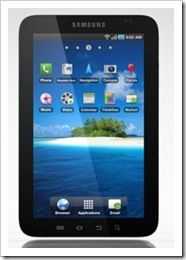 No. I'm not talking about carrier 'discounts' I'm talking about retail discounts. Real, no-strings attached, cash on the (internet) counter deals. My favorite pricing search engine is coming up with some interesting prices across the EU.
Galaxy Tab Information page here.
In Germany we're obviously starting at 799 Euros. Amazon set the bar and everyone else has followed suit so far. (Geizhals link)  My guess is that no-one has actually negotiated a price with Samsung Germany yet (Samsung won't fix a price until after meeting all of their potential customers at IFA obviously) but have put the RRP up to catch out some early fans. Tip: I saw MediaMarkt (THE big electronic chain store in Germany) in the Samsung customer lounge at IFA. They were huddled with Samsung suits and a lot of spreadsheets. Wait until the MediaMarkt price is announced before making a move in Germany.
Update: Just a few hours after we posted this, a German mobile phone retailer is offering the Galaxy Tab for 649 Euros.  A 579 price was posted earlier but the sales page appears to have been removed.
In the UK things are different. They have already hit 599 pounds which is 726 Euros. That's still expensive and above the early street price of 600 Euro we were talking about a few days ago but how does 630 Euros grab you? One retailer in Austria is offering it for that price today. The pre-tax price is just 525.03 Euro. (Link to latest pricing at Geizhals.at) Other Austrian retailers are also discounting heavily.
I'll raise a little flag at this point and say 'warning' because retailers tend to play a lot of games on these price comparison engines but clearly the competition is already big on the Galaxy Tab and our predictions are looking spot on. We'll re-visit this in a weeks time.
No affiliate links appear in this post.