We've managed to get some time with the Galaxy Tab at IFA and we've got pics, a video and some benchmarks following in the next post. It's quite the looker, performer and a very good all-round tablet package.
Click to to see gallery
Fist impressions: Slick, fast, great weight/size ratio and Samsung have managed to include the Google applications AND their own app creations. The screen is sharp and, as expected actually, great quality with a contrast, brightness and 'pop' that we grew fond of with the Samsung Q1 Ultra UMPC. Web sites loaded quickly and cleanly over 3G and capacative touch was smooth. Stereo speakers are loud and of good quality for the size. Another trick that Samsung performed on the Q1 Ultra!
We got an iPad and Dell Streak in for size comparisons and as you can see, it's less than half the size of the iPad.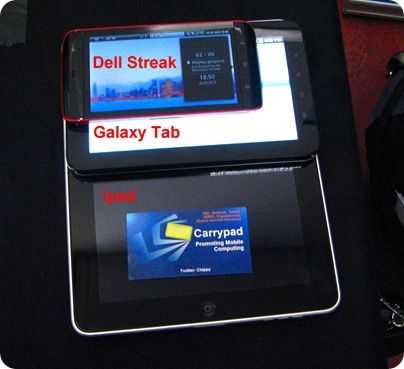 As for iPad and Dell Streak comparisons, I'm going to spend a few days thinking about it before I put any thoughts forward. We'll get some more hands-on over the next few days and test out the Samsung apps and some applications from the Market. Stay tuned.
On to the hands-on video. [Uploading NOW!  Update: Benchmark details to follow in next post.]
Benchmark video also available.