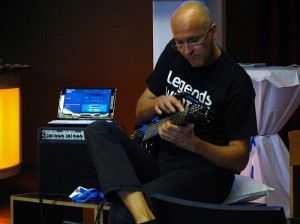 His name is Uli Dumschat and he's a marketing engineer for Intel Atom products for Intel in Europe. He was just one of a number of presentations we saw at Intel's Atom developer day in Berlin (Germans, head over to IT-Techblog for a rundown of the day) and after this video he simply got up, turned on the projector and delivered a great presentation about software development tools for Intel Atom. Talent! We'll be spending a week at IDF next week so you'll hear more than enough from me about the latest and greatest Atom ecosystem advances so all I want to do here is show you the man with the guitar. It's wonderful!
More on Uli's sound here. Facebook page here. More about Uli's Intel work here.
Oh, and what has this got to do with mobile computing? Check the Lenovo S10-3T he's using for live effects processing.
Don't forget to watch in 480p as the sound is much better.