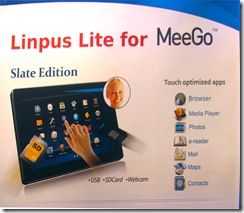 We've had talks with Linpus about MeeGo before but in a discussion at IDF last week we got down to some more details about the MeeGo Slate Edition and it sounds like we've got potential here. Remember, Linpus have supplied Acer with Linux builds in the past.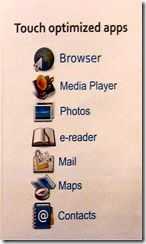 What we know right now is that Linpus already have a MeeGo build and it's highly likely that they will be supplying that to one of the major netbook manufacturers however their plans for Slate Edition are firm for a Q4 release and will build on MeeGo 1.1 that is due in October. Respect to Linpus for their intention to make this a publicly-available distribution. Apparently, Linpus Lite Tablet Edition will come with 7 applications too. (See right.)
What does it mean for us? Well, for N-series tablet owners (ExoPC and similar) it means you'll get an option. Remember, the Windows 7 + overlay solution offered on some of these products will be fairly heavyweight and switching to the Atom-optimised MeeGo is likely to bring speed and battery life improvements. For Z-series owners (X70, S10 and others) this should be an option too because Linpus are developing with Oaktrail and Moorestown platforms in mind. The GMA600 on those should (no guarantees at the moment though) be backward compatible with the awkward GMA500 on these products.
The best news is that there's a real likelihood that this will get picked up in an Oaktrail or Moorestown product and that should mean one very significant difference – always-on. Oaktrail and Moorestown are built with 'power island' capability which can be controlled by core software in MeeGo to bring extremely low-power idle states.
Linpus won't be the only conmpany working on a touch-enabled MeeGo core but It looks like Linpus are in a good position to be able to step ahead of the rest if they can get this running on an Oaktrail or Moorestown product.
P.S. Don't forget that AppUp will be compatible with this too so if that takes off, Linpus could be on to a winner.
We'll be getting updates from Linpus when they happen so stay tuned.