Could this be a new rising for the UMPC? If you take a look at the operating systems shown on nearly all the tablets here at ID, Windows 7 proliferates. The N-Series CPU appears in most too which is strange considering that Oaktrail was highlighted by Intel as the platform that would be used for tablets. Of course, Oaktrail isn't ready yet so in the scramble to get tablet products out manufacturers are using the N-Series platform and in most cases I'm hearing that an Oaktrail swap-out is planned at a later date. The issue there is that designs could be much much smaller if designed around Oaktrail.
Take this example of an Oaktrail product. Yes I know it doesn't have a 10 inch screen but if you consider that most of this device is battery, slider and keyboard mechanics, you can imagine just how small the motherboard is and how low the thermal specifications are. I've also handled a Moorestown-based tablet and that was significantly small and lighter than anything I've seen that's based on netbook technology. Having said that, I'm not sure if a 1.5Ghz single-core will be enough for Windows 7 Home Premium. The Viliv S10 I use sometimes struggles with 7 and I'm worried that the same experience will transfer over to Oaktrail. Improved graphics performance could help here though.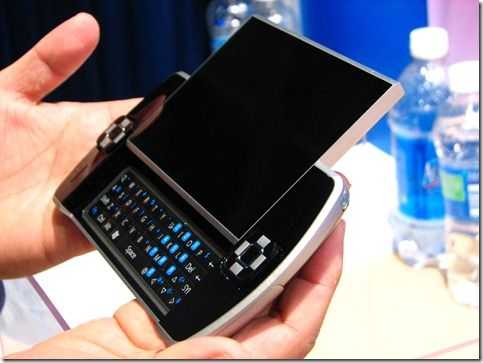 In terms of UMPCs and mobile computing, the Ocosmos OCS1 (labeled as a TC Tiny Computer in the media materials) is interesting and attractive. It's targeted at gaming which is why you see the dual controllers on the device. These controllers can be mapped to keys to enable a flexible Windows gaming setup. If you're worried about graphics, you'll be pleased to hear that the GMA600 in the Oaktrail platform is running at twice the clockspeed of the GMA500 found on Menlow. I've seen some nice graphics demos too and given that AppUp is starting to product some interesting Atom-focused games now, the OCS1 is well positioned to take advantage of this in 2011. The keyboard is good though so this will find use outside just the gaming circles.
Specifications:
Display: 4.8 inch Capacitive 1024×600 screen
Storage: 32GB SSD
Wifi: 802.11 b/g
Controllers: OMOS Key Interface
GPS included
USB 2.0 port (full size) and USB Mini
Camera: 3.0mp on rear. 1.3mp on front
Audio port 3.5mm
Micro SD card slot
HDMI out port (via micro-connector)
Note that the battery shown is a large-capacity option
On battery life, Ocosmos are saying that they are aiming for 10hrs but that might be a little optimistic. My opinion: With a 15wh battery I'm expecting 7hrs with screen-on and Wifi on in idle. In-use, the power utilization could go up to 5W meaning 3hrs could be a minimum. Don't expect miracles with Oaktrail. A 30% efficiency in in-use scenarios (in comparison to Menlow-based devices) would be a reasonable expectation.