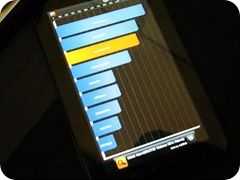 After our hands-on with the Galaxy Tab we couldn't resist a few benchmark tests. In the video below you'll see the Sunspider test which is a single-threaded test. For reference we've seen 9000ms on the iPad and just under that on Tegra 2 (with Android 2.1) A netbook comes in at about 2000ms. The Galaxy Tab? About 7500ms showing that the a single CPU core (we're not 100% on the CPU details yet – we suspect a single Cortex A9 core at the moment.)
Next up you'll see the Quadrant test that we ran on the Tegra 2 platform this week. On the Toshiba AC100 we saw a very impressive score of 1911 which is one amazing score. Remember the Quadrant test is a CPU, 2D and 3D test so it tests more than just the CPU. On the Galaxy Tab we saw a score of 1064. That might sound a lot less than the Tegra2 platform but it's more than the impressive Samsung Galaxy S!
All is revealed in the video below.