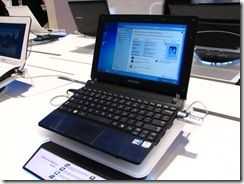 Update: More analysis, info and a hands-on video.
I've just come from the Samsung booth where I was taking a look at the N350. Sascha from Netbooknews.com put me onto it when he mentioned 1KG in the podcast we recorded earlier. (Coming later)  I have enough batt/time to give you a few key features and a few pics. A video will be coming later.[Netbooknews have one you can watch here]
N550 – Dual Core Atom CPU
3G (in some models)
13 hours battery (6-Cells)
6 hours (3-cells) in just 1KG
1024×768 screen
Upgradeable to 2GB
Base price – 400-450 Euros
Availability – 4 weeks (Germany)
Fast start – A hybrid standby / hibernation process that takes no power but starts in about 6 seconds. Very nice.
4G versions are also likely
The device I tested was only running a single core Atom but i'm assured it's going to come with a dual core.
Update: Full Gallery here.