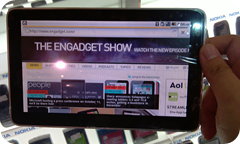 While we're waiting for the Viewpad 7 to turn up in shops in EU and America, you can already buy it in Malaysia. It's called the Spice Mi700 there and is offered through CSL, the manufacturing company that also put the JooJoo through its lines. One assumes that they are also manufacturing for Camangi, Viewsonic and Olive Telecom because it's exactly the same device as their offerings.
More important than who's manufacturing it is how it's performing and in-line with my own hands-on, it's getting the thumbs-up.
The Mi700 is, like the Viewpad 7 and FM600, a complete Android tablet with GPS, 3G, capacitive multitouch and Google applications making it stand out in the crowd. The processor, a Snapdragon running at 600Mhz, is faster than most of the cheap offerings too.
'elern' from 'A World of Thoughts' managed to spend 30 minutes with the device in his local electronic store and his report is well worth reading. Elern reports a slightly washed-out screen and a few software-related issues but the rest of the report is encouraging. Elern even manages to find out the battery capacity – 12wh which is half the capacity of the iPad battery but given the smaller screen, should give around 5 hours of in-usage battery life (and the normal extended active standby time as per smartphones.) Finally, elern suggests that while this isn't an iPad killer, its an alternative to the Galaxy Tab. I agree 100%.
You can check-out elerns hands-on here, follow him on Twitter here and view a thread he's created in xda-developers here. Another owner has already chipped in with some comments. ("Web browsing is very snappy, no lag and fast, love it") The product is available on-line here.