We've got a few videos coming up on the Viewsonic Viewpad 7 but first, here's the pics and a few thoughts (I need to hit decent internet connection before I upload the videos they'll come later.)
In summary, the Viewsonic Viewpad 7 is delivering most of what the Galaxy Tab is delivering, for an excellent price. You haven't quite got the build quality (it's good though) and you've got a known brand, Android 2.2, capacitive touch (good screen quality), 3G, voice and the Google apps. The only thing you might notice is the user interface. It's not as swift as the Galaxy Tab and that's clearly because the CPU is a Snapdragon at 600Mhz and not the high-end A8 Cortex device of the Samsung. It's not bad though and in my tests over 3G I was happy.
The price, BTW is a decent 399 Euro (350 UK pounds) and it's coming soon. (Within the next few months)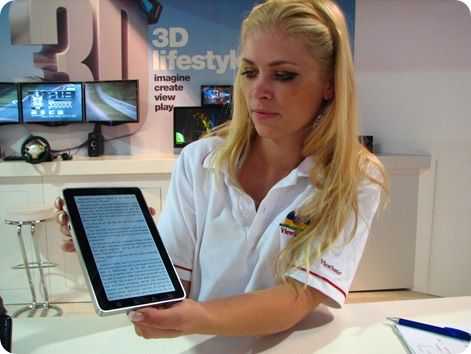 Watch out for more later. I've got two videos of the Viewsonic Viewpad 7 and I'll also be checking  out the Viewpad 10, an X86 device.