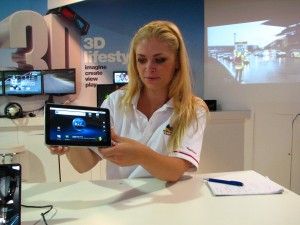 Chatting to people around IFA today we're all agreeing that the Viewsonic Viewpad is another 'complete' Android Tablet product. Apart from the latest Ghz-class CPU, and lets not forget that a 600Mhz Cortex A8-class CPU isn't actually that bad, it has everything needed for the full Android experience. From camera to 3G. From GPS to Market. From capacative touch to good build quality. You can even use this for voice calls.
The price is 399 Euro (maximum) which we think is very competitive indeed.
In the video below we go over the device and run a few tests, including the voice call!
Correction: IN the video I talked about a 1024×600 screen. We're checking this. At the moment the general opinion is that it's an 800×480 screen. That does make some difference for web browsing it will be difficult to detect any downside when using it in apps that are all designed for smaller resolutions anyway.