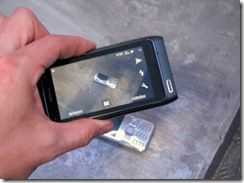 I don't usually cover standard smartphones on Carrypad but seeing as Nokia were kind enough to spend 2 hours demonstrating the N8 to me in Düsseldorf last month, I'll be kind enough to comment on it and provide you readers with some thoughts.
[Photos, video and brief N82 photo comparison below.]
As someone who's heavily into mobile and connected photography, (N82, X10i owner) the N8 interests me. As someone who's also into a full, fast internet experiences, the N8 doesn't interest me. 'Step away from ARM11' is my advice for anyone looking for a fast and full web experience and a few minutes with the iPhone 3, a well-optimised ARM11 web experience, will prove that even an optimised webkit browser isn't up to the quality and speed of current high-end smartphones. Yes, Nokia will call the N8 a mainstream smartphone but at 450-Euros it comes in above the HTC Desire which is my benchmark for a 2010 smartphone.
My hands-on with the N8 left me with the feeling that it should be approached as a 3G media-camera rather than a smartphone. It's more exciting if you think of it like that too a gadget. HDMI-out, 720p playback (I experienced a reasonable, but not stunning, playback), Dolby surround support with digital output is also exciting although I'm not sure who's going to be selling content for that! Add in a quick and high-quality camera for static and video image work, a built-in editor, high quality 3G support, fast user interface and, something that I really value, a fast, scalable and high-quality MP3 manager and playback utility. There are a few other things too:
Ovi maps Free offline maps and turn-by-turn is invaluable for anyone that travels borders (try using Google Navigation when roaming on an Android phone!)
Quick access to SIM and MicroSD
Unique styling
AMOLED Screen (Great colour. Should save battery life in many cases over an LCD screen. Basic clock standby screen is always-on. Not that good in sunlight though)
On screen keyboard seemed good in portrait mode
USB On-the-go (USB hard drive access)
Potentially good gaming graphics
Question marks
High quality YouTube playback? (In my opinion more valuable than Nokia TV)
Battery Life
Application store
The browser (quality and speed)
Photos:

More photos in the gallery
Hands-on Video:
About the camera.
12MP is impressive but does it perform. In my brief tests I was able to do a few N82 comparison photos and judging by the results (looking at ISO, shutter, F-stop settings used) the N8 is on the same level as an iPhone 4 when it comes to light sensitivity. I'd guess that it's 2x more sensitive which sounds a lot but isn't that significant when it comes to low light work. With the high quality optics, fast camera UI, video recording capability and high-power Xenon flash though, it definitely takes the lead as far as cameraphones go.
Sample Photos (8MP)
N82 Comparison Low Light Flash 8MP photo (More N8 images and sample photos at Flickr)
N82 (Left, 4:3 format, Original at Flickr) and N8 (Right, Original at Flickr) If you check the EXIF data on Flickr, you'll see that there isn't much of a difference in light sensitivity between the N82 and N8 although the N82 is probably using some heavy processing and of course, it has firmware that has been matured over 2.5 years! A crop of the two photos shows good quality on both cameras although this is only at 8MP. A 12MP N8 pic would obviously provide sharper images at larger sizes. N82 crop image on left.
Overall, the N8 gives much better camera experience with quicker response, faster preview, better 'viewfinder', better features and overall better results. It's clear that it's a worthy upgrade to the N82
Summary
The N8 is not a do-it-all smartphone or a no-brainer consumer smartphone like the HTC Desire or iPhone because it's aimed at a market of mobile media users and creators who like to share with quality; People wanting a productive web experience with a choice of tens of thousands of apps need to look elsewhere.  Having owned the N82 for over 2 years I know that the N8 can replace a compact camera and because it's in the pocket, you'll end up with more of those 'real-world' shots that are so satisfying. In family and friend situations, it's a real advantage.
The N8 is a flexible, connected media partner and in a few months when the price drops by 10-15%, should be good value too. I certainly can't think of a better connected camera in the market right now and it's tempting to swap out my Xperia X10i for it although I know there's a lot I'd miss.
[Sidenote: If anyone reading this in Europe buys an N8 and fancies swapping with an X10i, either temporarily or permanently, let me know because i'm prepared to give it a try.]