Foreword. Many, many thanks to Er Lern out in Malaysia for sending us this review of the CSL Mi700 tablet before posting it on his own blog.  Er will be bringing part 2 of the review soon. Make sure you follow Er on Twitter.
Readers might notice that the Mi700 is the same as the Camangi FM600, the OlivePad and the Viewsonic Viewpad 7 that should be launching soon. (all product details here with links and videos) For a 7 inch tablet with 3G, voice, GPS, capacitive touchscreen and Android 2.2, this is shaping up to be a really nice product. The pricing should be competitive (we're hearing 399 Euros for the Viewpad 7 with 3G included) so this is one review to read carefuly. Take it away Er Lern….
CSL was kind enough to lend me a review unit of their latest Android product (the Mi300 being their first): Mi700 DroidPad. Along with the review unit, I had some time chatting with both the CEO and Senior Manager of Marketing at CSL. The relevant details and observations from that discussion will be inserted in the review.
Unboxing:
The product comes in a fairly large white box. In it, you get the tablet, along with (Please refer to the pictures below):
DroidPad
Hardcase Cover (with a small sleeve in the front and a elastic band, used in journals to keep the contents together). This cover is useful to prop the device at an angle, for display purposes. Note: They term this a pouch in their manual. I think not.
Screen Cloth Cleaner
Screen Protector (which I decided not to use since it was the reason why the screen looked washed out during my 'quick review')
Headphones/Handset (practically low quality and only good for receiving calls with – more on that later).
Earphone buds
Car Charger (great for car usage, especially when you use the DroidPad as a Garmin-replacement)
Mini USB Data Cable
Wall Charger
Quick Start Guide
MapKing Android 1 year Authorization Card
CSL Fun Club Instruction Booklet
CSL Warranty Card (1 year, which you can upgrade for another 0.5 years by registering online)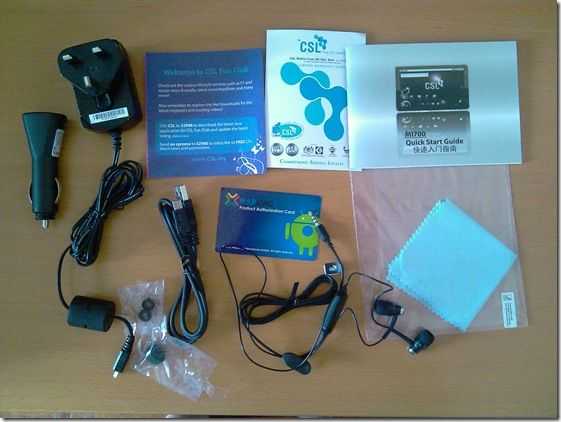 It is a simple package, which I found quite attractive (you won't want to throw the box away).
Hardware:
Take note, in this review, I will refer to the tablet in landscape position being its normal, at rest, position. This is how the company has designed it. Not like the Tab where it is displayed as a  "portrait" mode tablet. Honestly, I prefer to handle tablets in portrait position; I find landscape a bit too disconcerting  as it requires one to relearn habits acquired in using phone UI (User Interaction)s. That is just a pet peeve of mine. By the way, all the photos taken are from my HTC HD2 at 5MP. I will try to include a video in future posts.
This is a 7″ inch device, with the following dimensions: height of 179.4mm, 110mm width and 11.5mm length. It weighs at slightly less than 0.5kg. The DroidPad can definitely be carried using one hand, although not for long stretches; ideal for the short surfing and simple tasks. The best way to hold this device (from my experience) is to put it on any platform (could even be your belly) and leaning it back against your palm/fingers. The weight in that position is negligible.
The build itself is solid. There are no moving parts or rattling noises from the unit. This is not unexpected since it was mainly designed and manufactured by Foxconn (though CSL has input into the design through a subsidiary of Foxconn). The unit does not house a fan to dissipate heat. Frankly, it is not needed as I have not felt any heat coming from the unit, even when under heavy usage. When you turn the whole device around, you will notice that it is all sealed up nicely. The back is a polished, glossy matte (ala iPhone 3G) cover in black. I do not know what material it is made of, but it attracts finger prints on it. The side of the tablet is framed with an aluminium casing (it looks like aluminium to me). The thickness is evident (at 11.5mm), but good to see that the back and the front does not bulge out, but fits that length perfectly. Although everything looks nice, I have a bit of a complaint concerning the front bezel. I admit, I am bit picky at times, and like things to be symmetrical, and thus found the bezel around the display to be of different sizes. I measured the sides, and they are both 11mm. The top is 9mm while the bottom is 12mm. I just find that a bit odd and have no reason to justify their rationale in this (especially since the camera is located at the top left and not at the wider bottom bezel). Anyway, at the right side of the display are 4 touch sensitive buttons. One for 'menu', 'home/voice search', 'search' and 'back'.
[continued on Page 2]
Pages: 1 2