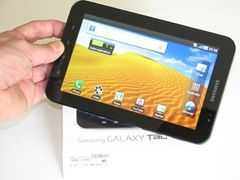 Update: Our live review sessions are now available.
As the battery falls to under 20% after the first 24hrs of using the Galaxy Tab it's time to give you some first impressions of the the final, retail version of the product. Has Samsung bisected the 5-9 inch tablet segment with another 'must have' product or is this just a product for rich-kids? Before I write any detail though, I must say one thing – When a product is good it triggers strange thoughts in the mind. "How can I justify this inch is the inner monologue that tells you that you are dealing with a special product and I'm sure that many many people out there will be thinking this very thought after they've played with the Tab for a while. Let's not forget the price of the Tab as we form our first impressions though.
Galaxy Tab supplied by TechDepot. Many thanks for their support.
As with most Android/Google experiences the out of the box experience is good if you're a Google user. I am and that means just putting in one username and password and letting the device do its stuff. Email, Contacts, Calendar and YouTube were automatically set up. Popping in a (hot swappable) SIM card meant the phone and data connection was up within the first 5 minutes and I didn't even have to worry about connecting to a WiFi hotspot for the unboxing demonstration. (Video embedded below) That's how easy it needs to be. Note the lack of 'connect your PC and download iTunes' in that!
From the outside the plastics are good, solid, shiny and oh-my-god slippery. I've dropped the Tab once already (on carpet, no damage) but I can guarantee this will be an issue. It's got that special easy-wipe layer of chemicals that the iPad has and although it does wipe clean easily, it slips all over the place. The aftermarket for cases and bumpers will be strong with the Tab.
The Galaxy Tab is a complete Android product. When I say that I mean that it works like an Android phone does. Market is there, cameras work (great, fast camera software BTW Samsung) and it's stable and fast. The power utilisation is well optimised too. 25hrs the Tab has been on and it's just coming up to the 10% charge warning. Overnight drain indicated that this will remain active for about 4 days without needing a charger and that, to me, is what 'Smart' is all about. If Android and the related apps could lean more towards productivity and true web experiences, this would be a netbook killer of a mini-smartbook. I'm imagining a 10 inch version with a keyboard in 2011. It just has to happen.
The 'Tab' comes with the efficient Android 2.2 build and browser and is pre-installed with Flash 10.1. It works quite well too but there are still roadblocks out there. Google Docs is still out of bounds as is my WordPress back end. Hover actions and complex AJAX are a serious issue for Android browsers which means in it's current state, you can't really call it the full web experience. Still, I doubt many Tab owners will worry too much about that. It's not that important in this consumer market.
I've mentioned the camera software and it's just one of the little extras that are dotted all round the Android build. There are a few nice widgets, a music store (Music Hub), DNLA support (AllShare), Divx/MKV/WMV and other codecs built-in and the Samsung Apps market which will bring apps dedicated for the Galaxy Tab. At the moment I see just two apps. One for the German media company N-TV (which crashed twice on me) and the other a remote control application for Samsung TVs. This area of the Tab needs ramping up although if Android 3.0 opens the doors to large-screen apps, maybe Samsung should focus on an upgrade to that.
Other not-so good sides to the Tab.
Capacitive control buttons hard to see when the backlight is off.
No USB OTG (although this might be enabled with an adaptor)
That's all I've found so far. I'm sure we'll find more in the live session.
Live Review and Q&A/chat tonight at 2100 CEST (Berlin) – Carrypad.com/live
Image taken with Galaxy Tab rear camera

Camera features and quality seem good. Especially for a 3.2MP cam. Video quality also OK although there seems to be a sound issue. See quick uploaded sample video here.
Other notes:
Keyboard in portrait mode – Excellent. Good device weight / size and responsiveness / accuracy.
Swype keyboard included
Stereo speakers good
Screen excellent. Contrast, brightness. Glossy is a downside in some situations
Battery life great – I expect about 8hrs in use, 24 hrs duration between charges. This makes an all-day hotspot using the 3G sharing features
Screen responsiveness – Good but not iPhone good. You can almost feel the multitasking interrupting the UI experience!
Built-in storage – 12Gb available – hot swappable Micro SD
Wifi reception good (and very fast to connect)
Video files up to 7mbps tested OK. (Various formats)
Amazon Kindle looks good but this slippery plastic is quite annoying in this scenario – An important point to note if you're thinking of this as a long-duration e-book reader.
Speedtest – First test result was very good. (HSPA)
Image set
I haven't done a proper photo shoot yet but here are some snaps.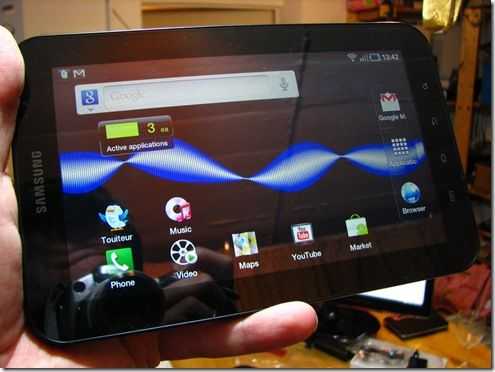 That's it for now. If you ignore the price (it's totally up to you to work out if this is value-for-money for you. Remember, there's no comparable products in the market as I write this) then you've got a slippery but very stylish and capable consumer tablet. Did I miss anything major? If so, drop a comment in below and we'll be sure to cover it in the live review.
More information in the Galaxy Tab information page.
LIVE REVIEW – Q&A. Don't forget to join us tonight, 15th October at 2100 CEST/Berlin on Carrypad.com/live for a live video review. Chat session too!
Unboxing video