Windows 7 is a great operating system but never really felt at home on low-end mobile hardware platforms in my opinion. The disk, memory and CPU requirements were just above what a netbook could offer and it wasn't until the dual-core Atom CPUs became available that I was finally convinced that Windows 7 would run smoothly on a netbook. 2GB of RAM is still an advantage though and to squeeze the best out of a low-end platform, a fast SSD is a must-have.  I'm currently testing the Tegatech Tega V2 which doesn't quite have the dual-core CPU specs but manages to keep up by having 2GB of RAM and a reasonable SSD. It's just about working smoothly enough to be called a serious device. Taking a look at the HP Slate 500 that was launched last week leaves me with a similar feeling that they've specified the device well enough to be able to offer enough performance, memory and storage along with some good battery life potential. At 1.5lbs this is definitely one to look out for in the Tablet PC department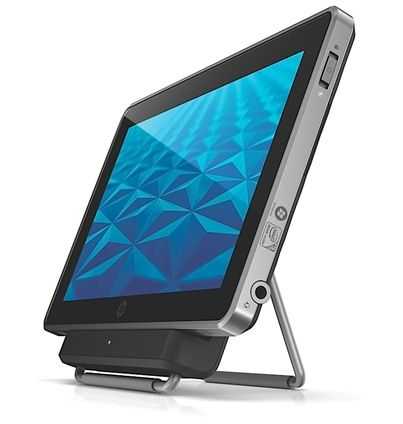 Updated: Our HP Slate 500 Information page. Includes comparisons. Forum too!
The 1.8Ghz Z-series Atom CPU should be good enough to give a reasonable Win7 experience and to improve the pinch-to-zoom response, a quick and useful real-world usage test with low-end CPUs. It will also provide video acceleration out of the box although the additional Broadcom video accelerator does highlight that the built in video support in the Intel Menlow processing platform isn't quite man enough for the job of video decoding! 2GB RAM – Check! 64GB SSD – Check (as long as it's fast) and at 1.5lbs with an 8.9 inch 1024×600 screen, it seems optimal for some serious mobile productivity work. Throw in a capacitive screen with active digitiser, a 3.0MP 'camera'  and an HDMI-capable docking station and you've got a tasty tablet that I would have estimated at over $1K. The price: $799.
Based on what we've seen with other Menlow-based tablets, the 30Wh battery on this should give it a true 5hr battery life. Again, not bad. (Note: I've read claims that a 2-cell battery is less capacity than 3 or even 6-cell batteries – Ignore them. It's all about Watt-hours, not cells. 30Wh is about half the capacity of a good quality extended netbook battery.)
The only reservation I have is about 3D and 2D graphics performance. It's not a strong-point of the 'Poulsbo' chipset and my first tip would be to turn the Aero UI elements off to improve the UI experience.
Not included and worth thinking about though are a number of features that are common among mobile computing devices:
Auto rotation(unconfirmed)
GPS
3G Option
Optical mouse pointer
VGA Out
Ethernet port
Built-in stand
Having said that, the $799 price seems very good value and we're looking forward to getting hands on to see if our predictions about performance and battery life are correct. The HP Slate 500 is available for pre-order now and should be with customers in about 3 weeks. (U.S. only)
Extra: Mobile Barbarian, a long-time reader of UMPCPortal has written a blog post on the Slate 500. He's ordered it and explains why here.