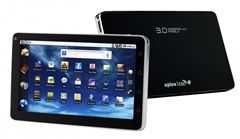 There are a few consumer tablets that stir excitement more than others. Of course the iPad is a leader in terms of being a complete product but there are three others you should watch out for. The Dell Streak gets Android 2.2 in November giving it a leading position in the Android tablet space. The Galaxy Tab should launch in November too. It will be expensive but will bring some large-screen optimised software to the Android platform for the first time. The third one on the 'watchlist' is the Viewsonic Viewpad 7. We were slightly disappointed to hear that it's an ARM11-based device last week which means it definitely won't have the ooompf to compete with the other devices mentioned here but having tested it and seen that it's a complete 'phone' tablet with 3G, GPS and a surprisingly fast UI, we're still happy that it competes. Pricing is said to be competitive.
The Viewpad 7 is a re-badged device manufactured by Foxconn and we've already seen that it will appear as the Olive Pad, the Camangi FM600 and the CSL Spice Mi700 Droidpad and it's the latter version that is getting some attention right now because it's already available in Malaysia and the blogger that made the in-shop review we highlighted last week now has a review model. Not only that but he's found out that there's a Snapdragon version in the works too. No doubt it will be more expensive but it certainly shouldn't take long to get it to market if they use the same design. Foxconn aren't using the same design though because our friendly Malaysian blogger says "DroidPad 2 slimmer, Snapdragon, will meet Android 3.0 req, planned release in Q1/Q2 of 2011. inch
With Foxconn being one of the largest computer design/manufacturing companies in the world it's safe to say that they're well connected in Google. Knowing exactly what's required for Android 3.0 is a good indicator too.
We'll be continuing to follow erlern on Twitter and his blog. We suggest you do to!