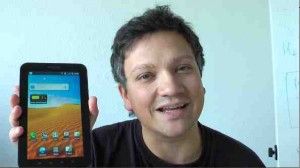 Interesting news from Samsung Germany as they issued a press release yesterday stating that the Samsung Galaxy Tab [specifications] is available 'from now.' (Via Netbooknews)
We hadn"t heard of any immediate availability and the price is still a recommended 799 although street prices, as predicted have hit 650 Euro.
Checking the blogs though shows that our local friends at AndroidPIT managing to get hold of a Tab. Lucky boys! The first impressions are: 'Geil' which is somewhere between 'hot' and 'cool' – both in a very positive way!
We're wondering whether to drop in on them at the weekend and buy them a beer!
Check out the video from AndroidPIT below. Article translation here.