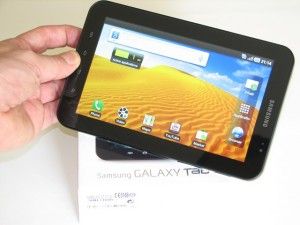 We (that's JKK and I) spent a full 3 hours testing the Samsung Galaxy Tab this evening. An amazing 1700 people stepped in to join us in the live session via Ustream and we had a constant 100+ people in the live chat asking questions.  As usual they were guiding us well  – there's always someone out there with better knowledge and that's one of the reasons we love to do these live review sessions. We learn from other experts and we can pass that information on.  We recorded two sections of the session and they are now available below. (Recordings made from the live stream)
A very brief summary is that there are no showstoppers. That's rare! We usually manage to find a serious issue or two in these deep testing sessions. The device works smoothly, returns great battery life and, most importantly, Angry Birds works! This really is a great consumer tablet.
I'll be working on a full review but don't expect anything within the next two weeks because there's a huge amount of great stuff to write about and test further and I want to make sure I cover everything.
Thanks again to Techdepot for supporting us.
Previous Galaxy Tab news: See the first impressions post here and the unboxing and overview post here.
Our Galaxy Tab information page is here.
The rest of the session was not recorded. Make sure you join us live next time!