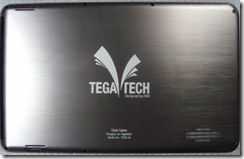 We're waiting for a price on this productive tablet from Tegatech but if it's anywhere near what Viewsonic are proposing for the equivalent (we assume same OED) Viewpad 10 – around 550 Euros for an entry-level version-  it will be well worth checking out.
Update: The launch is postponed untilt he 15th due to global Windows Phone 7 launch events.
We tested the Viewpad 10 at IFA last month so we're already fairly confident that the performance and responsiveness is  acceptable and with Windows 7 Pro, 2GB of RAM, a 32GB SSD and 3G option, it really would make an interesting modular PC. Take it from me, someone that has been using a ultra mobile PC and netbook exclusively since March, you will be able to use this as a desktop PC for most day-to-day scenrios.
As with all Windows-based tablets, I tend to look immediately for a docking port and unfortunately, it's missing on the Tega v2. (and Viewpad 10.) I can not overstate the usefulness of a docking port and docking cradle on a productive tablet, especially when you're looking at having to charge during the day and with the possibility that 10 inch in portrait mode makes a superb second screen.
We've added the Tega V2 specs, links and images to the database.
With a confirmed (we checked out the hardware at IFA) 4hrs of battery life possible, it's not bad for an 800gm PC with a 10 inch screen.
Our only issue is that if you're using the 16GB drive version, there won't be much storage space left after Windows has gobbled up most of it.
As for the included Android Open Source build, well, it's interesting. You might find some use for it. A sideloaded Amazon Kindle app comes to mind if you fancy holding an 800gm book but we don't see Android as being a key feature here.
As we mentioned, we don't have prices for the Tega V2 yet but we do know that Tegatech have now expanded operations into Europe and US which is perhaps a sign that the pro-mobile segment is benefiting from the consumer tablet craze.
Our hands-on with the similar (unconfirmed but we suspect the two devices are coming from the same production line) Viewpad 10 is shown below.