1000 words written on 4 rigs that cost less than 1000 Euro and weigh less than 1000gm.
As you can see, I haven't quite started yet but I'm in the final stages and expect to start this afternoon.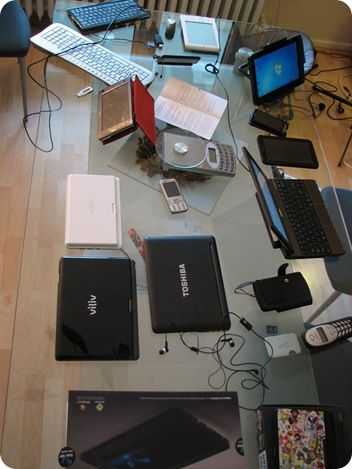 The Toshiba AC100 is ready to go (indicative of the all-in-one nature of laptops perhaps?) but I'm still working on a few other devices. The main problem is that I don't have a Bluetooth keyboard to use with the Galaxy Tab so I'm seriously thinking of going with the thumbs. I tested the keyboard in portrait mode last night and it wasn't bad at all. I'm not saying it's as stress-free or as fast as a keyboard but it would make a great all-in-one test (Cam, 3G, navigation, mp3 player, etc) and at 384gm, wow it's a light solution. I'm going with it as an extreme, all-in-one mobile solution.
The Tega V2 is here and I'm struggling to get a package together that lies under the 1KG mark. Adding a keyboard, stand and smartphone (for the camera, navigation etc) brings it up to 1.4KG. That's way over my limit so I'm thinking of dropping it and going with the X70 although with keyboard and stand, case and mobile phone comes to 1.2KG. The only Windows 'tablet' solution that I can put together with the rest of my 'rig' in under 1KG is the 5 inch Viliv S5. Unfortunately, 5 inch is below what I regard as usable in a table-top scenario with a keyboard.
This is interesting to see because we often regard tablets as lightweight mobile devices. With Windows, that's not currently the case because once you've added the keyboard you are up to netbook weight. My Viliv S10 3G netbook is 1.25KG!
So what am I to do? If I was sensible I'd take the Viliv S10 but I want to take a Windows Tablet solution. The Tega V2 is here for review so for that reason (and to highlight the weight issue) I'm going to take the Tega V2. It fails before it starts but at least I get to spend some time with it.
So that leaves one more rig. I had the X70 lined up but considering that it will also come in at over 1KG, I'm not going to take it. Instead, I've chosen a mini laptop. Coming in at a total of exactly 1000gm for the laptop, smartphone and headphones its the Viliv S7.
The rig will provide this functionality:
'PC' with email, web browser, document editing capabilities, storage, screen, keyboard and Wifi
3G internet connectivity
Navigation system
Camera (minimum 2MP)
Video camera (MIN VGA)
MP3 player and headphones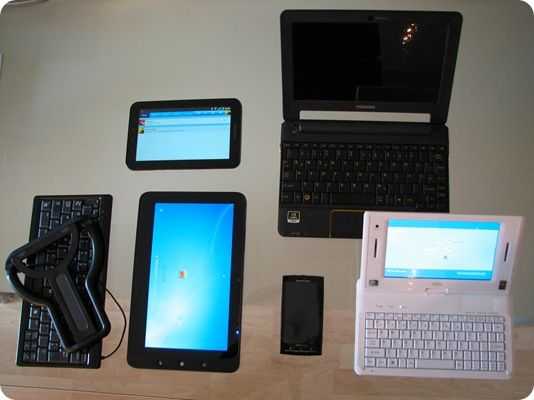 The Final Setup
Rig 1 The 10 inch Windows Tablet. (Bottom-left in picture)
Tegatech Tega V2 64GB+3G = 880gm
Stand 132gm
Keyboard/mouse (Samsung lightweight USB) 258gm
Xperia X10i phone / navi/ mp3 / camera 138gm
Headset 20gm
TOTAL WEIGHT: 1428gm
Expected battery life: 4hrs
Cost: Can be done in under 1000 Euro. This rig costing near 1500 Euro
Rig 2 The 7 inch UMPC (Bottom-right in picture)
Viliv S7 (Includes 3G) 842gm
Xperia X10i phone / navi/ mp3 / camera 138gm
Headset 20gm
TOTAL WEIGHT: 1000gm
Expected battery life 7hrs
Cost: Can be done in under 1000 Euro. This rig around 1200 Euro
Rig 3 The 10 inch Smartbook (Top right in picture)
Toshiba AC100 862gm
Xperia X10i phone / navi / mp3 / camera 138gm
Headset 20gm
TOTAL WEIGHT:1020gm
Expected battery life: 8hrs
Cost: Approx 800 Euro (Smartbook with 3G costs 350 Euros. High-end Smartphone about 450 Euros)
Rig 4 The 7 inch Superphone Tablet (Top left in picture)
Samsung Galaxy Tab 384gm
Headset 20gm
TOTAL WEIGHT 404gm
Expected battery life: 8hrs
Cost 700 Euro
Its very interesting to see what we've we've got in terms of weight, battery life and cost here. The 'expensive' Samsung Galaxy Tab right turns in at less than half the weight and 30% less cost than the Windows-based rigs while providing the longest expected battery life. Everything is integrated into a single unit. Total convergence! Adding a BT keyboard would bring the cost to about 750 Euros. The AC100 looks attractive on specs too. With a lower cost smartphone this solution could be put together for about 550 Euros which would make it the cheapest solution by far. For a rig with a 10 inch screen, good keyboard and good battery life, it shines.
On first glance it looks like the ARM-based devices have won here but this isn't a test of specs, it's a test of usability. I've got to write my e-book on these rigs and there could be big advantages to the Windows-based systems when it comes to this sort of productivity. I'm looking forward to testing all the devices and will report back regularly over the next three days.
I'll be updating as I go along via twitter and blog posts here on UMPCPortal so be sure to check back, subscribe to the RSS feed, the daily email feed or follow UMPCPortal on twitter. You can also follow me, Chippy, on Twitter for some more details, highs, lows, Q&A and pics and I go through the tests.
Oh, and as for the 1000 km travelling, ahem, I might throw in the towel on that one. We'll see how it goes but at the moment I haven't planned any major tours.