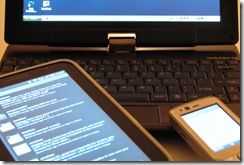 Now that the N350 has gone back to Samsung, I'm back on the Gigabyte Touchnote for a 5-day trip to London and Berlin starting tomorrow. 1.4kg + battery pack is not the lightest but it will last all day and, very importantly, has proven itself a stable, reliable companion; so much so that i'm being very careful about changing it.  The Runcore SSD and 2GB RAM upgrade was the right choice but looking to 2011 and possible 720p video editing (480p is the compormise I currently make for mobility) something has to change soon. I'll be waiting for JKK to finish his testing on the Asus Eee PC 1015PN before I make my choice though.
The Sony Ericsson X10i smartphone has now gone from my life. Although a good Android phone and even better after a recent firmware upgrade, I decided to pull it from my kit. Partly due to battery life and partly because of the camera. I only need a smartphone for PIM, notifications, GSM, offline maps, brief Twitter and web moments and camera now that I have the Galaxy Tab. I'm looking for a new phone and If I'm honest, the Nokia N8 fits the bill well. Until then, i'll use the N82.  The Galaxy Tab is the device that is slotting in as the 3rd one in my three device strategy and adding a spot of fun and saving my phone from becoming the battery life weak point.
The MiFi has gone (the Tab does that without any battery issues) and micro-sim / Bluetooth on all devices helps move data around so i'm cutting down on cables. I've still got the Canon S2IS as my camera but, like the netbook, it needs an upgrade.
Total cost of the kit, new, is 600+300+800+350 (Tab, N82, Touchnote, S2IS) so it's certainly not a cheap setup at over 2000 Euro but where can I get all this for less?
Netbook with SSD and 3G, 5hrs battery. (Touchnote)
Pocketable camera with Xenon flash and Bluetooth (N82)
Personal navigation device – offline and online. (N82, GalaxyTab)
Phone with SMS, MMS, video calling, all-day (18hours) battery life (N82)
3G/Wifi portable hotspot with 4hrs battery life (Galaxy Tab)
PMP – 720p with multiple codecs. (Galaxy Tab)
E-reader for web and books) (Galaxy Tab)
Gaming/entertainment device(Galaxy Tab)
Always-on, 3G-capable Social Networking tool (Galaxy Tab)
MP3 player (N82)
Bridge camera with good zoom, video, audio, usb. (S2IS).
Hmmm. The 2K challenge. What would you buy to do the above?