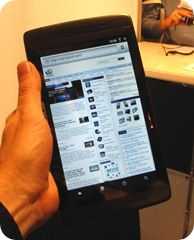 The price of the Galaxy Tab is gradually coming down but it's clear that it will never reach the 250 Euro price of the Archos 70. It looks the same, comes with 8GB of storage, a similar processor, similar operating system and plays back video just like the Tab. So what's the difference?
Balazs of Ndevil unboxes the Archos 70 in the video below and Charbax has a text/video review up. You'll hear them talk about some of the very important differences between this and the Galaxy Tab but lets list them all here so you can compare.
Galaxy Tab Extra Features:
Phone, 3G, SMS, MMS
1024×600 screen
3.2MP Auto-focus camera and 480p video cam
Docking port for accessories
Stereo Speakers
16GB Storage
Samsung software suite including Samsung keyboard
Access to Google Market and Google apps suite
GPS
Archos 70 Extra features
USB OTG (unconfirmed)
Micro USB Charging and connecting
HDMI out port
Kickstand
Full specs for the Archos 70 here. Galaxy Tab here.
There may be others differences and in terms of software, some of the issues on the Archos 70 can be fixed through hacks but the summary is that on the Galaxy Tab, you're paying 450 Euros for voice,3G, hi-res screen, auto-focus cam, 8GB storage, GPS and the Samsung Google software. That's a lot of money for features that you probably don't need when you're lazing around at home and if the Archos 70 is as good as people are saying (I'm getting good feedback from owners so far) and if Archos push that V2.2 firmware out ASAP then the Archos 70 is definitely a better value product for sofa-surfing. When it comes to mobility though, the Tab has the edge although with the Viewpad 7 coming in at 399 Euros in the next few weeks, there's quite a head-to-head building up on this 7 inch space. (Actually there's at least 16 devices in our database, more to come soon!)
So how's this 7 inch space shaping up for you?