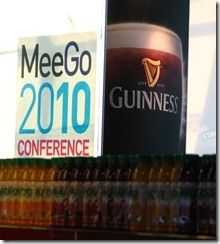 We're heading towards the end of day 1 of the MeeGo conference in Dublin and although we haven't heard about any new hardware (it really wasn't expected) we are picking up news.
Keynotes this morning were mainly 'call-to-action' for the developers with both Nokia and Intel saying very little about hardware and products. Nokia re-stated their position on a MeeGo product for 2011 and based on the lack of Moorestown and Oaktrail hardware here, we should look towards CES for the next demonstrators on Intel.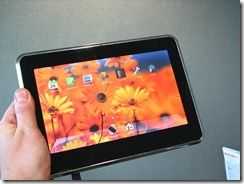 MeeGo has just hit v1.1 which means ISVs, distributors and OEMS should be starting to optimise and enhance the build for their products. That process takes a while although we did get a sneak preview of something that Linpus is working on. Linpus Lite Tablet Edition has a touch-optimised UI along with on-screen keyboard and a set of applications including media-player and ebook reader.
There's a strong call for help in the MeeGo community and although we've got 1000 people here in Dublin, there still needs to be more work done in the background. Documentation, bug testing and reporting and community events. Whether community contribution is on the critical path for MeeGo or not remains unanswered (I asked) so it would be interesting to probe Nokia, Intel and the Linux Foundation about what might happen if contributions don't reach the levels required. Incentives?
Intel led the keynotes today and highlighted their belief that an open model is the only way to scale an operating system quickly enough. Although it's tempting to think of that as leaning on free contribution, what it really means is that 'passing upstream' is they key; Multiple vendors working on open source solutions that are then contributed back up to the core and can then be used by others. They highlighted the need for control though saying that 'open' doesn't need to be 'fragmented.' I wonder what end users will think when they see multiple different versions, user experiences, enhancements and branding? Closing the Intel keynote, Doug Fisher announced that everyone would get the chance to take away a Lenovo convertible netbook. With a 10" capacitive touchscreen it should get developers thinking about the other end of the device spectrum compared to the N900 that was given out at the Maemo conference last year.
Nokia didn't have much to say apart from their belief that we are entering the next generation of computing. Touch is the key. I'd like to pull some gems out of the session but really, there wasn't much there.
One of the key statements of the keynotes was made by community member and contributor, Carsten Munk (@stskeeps) who summarised nicely by saying that we're here not only to create the MeeGo core and MeeGo applications but also to 'create the MeeGo way of working.' That's an important point to remember here. It's all about the developers in Dublin.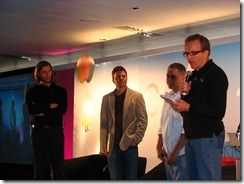 Oh, and one more thing – AMD's Chris Schlaeger got up on stage to tell the world that they are in the mix too. This isn't a formal co-working agreement but it looks like AMD will work to get MeeGo running on some of their products, again passing the results back upstream. No more details were given but given that AMD have just announced a new netbook platform… no, we won't even guess at this point. We'll try and get you some more details over the next few days.