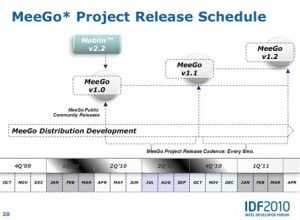 Just a few days after the first ever MeeGo conference I have the best chance ever to take what I've seen, heard and learnt to try and predict when and what will happen with MeeGo in 2011. When will versions ship? On what hardware? When will the applications store ship and finally, when will end-products ship both via Intel and Nokia funding and, importantly, through independent vendors.
First let's remember that MeeGo is an offering to developers, OEMs, manufacturers and other non-end-user customers. Like Android open-source, it will comprise a complete core, a vanilla user interface and a basic set of core applications. Driver support will be limited to common open-source drivers, codecs for audio and video will be limited to free versions and there will be no applications store. While 'hacker' types may welcome the new OS, end-users are unlikely to be too thrilled. Journalists that don't get the whole picture are likely to react with negative reports. Once again, remember that MeeGo on end products will be different to what you see coming out of the MeeGo project.
Let's also remember what MeeGo is about. It's an open-source project run by the Linux Foundation and funded by Intel and Nokia for a range of products from mobile phones, in-vehicle entertainment, TV, netbooks, 'smart' books and tablets. Intel need MeeGo for their new low-power platforms (Moorestown and Medfield, the handheld platforms, just won't work without MeeGo although Android is also in the works for these platforms) and Nokia have committed to bringing their next flagship product out with MeeGo. The stakes are very very high for both companies. MeeGo will happen, products on MeeGo will happen and applications on products on MeeGo will happen. But when?
It is possible to get a product out using MeeGo today. The WeTab proves it's possible but there's a list of things that need to happen before 'milestone' products appear. I also refer to these products as 'disruptive' because they will be good enough to compete in the same space as the best-of-breed in their category. There's also another category of important products and that is those that are not funded by the MeeGo partners. Here's what needs to happen before the products appear…
Hardware platforms
For netbooks, the Intel Pinetrail platform works and is likely to be the only choice for most of 2011 and until the next generation of netbook platform is introduced. At that point we should expect a lean towards always-on and the addition of hardware video decoding and encoding. The Intel netbook platform should start to look more like the Oaktrail platform proposed for tablets. If we look at the ARM platforms, the dual-core Cortex A9 series of variants is looking interesting for 'smart' netbooks and focusing purely on hardware, it's possible to build a netbook-style device on ARM today. The Toshiba AC100 is one example.
Timescales for Intel netbook hardware: Now
Timescales for ARM netbook-style hardware: Now
In terms of tablets, there's a wide range of choices. Intel are offering Oaktrail which can support Windows for a desktop-like experience and MeeGo or Android for the always-on consumer-style experience. Interestingly Intel also offer Moorestown on which only MeeGo and Android will run to provide a consumer handheld experience right down to almost mobile phone sizes. in the ARM world we have a huge range of choices. We've seen MeeGo running on Ti (who work closely with Nokia and are likely to be providing the platform for the Nokia MeeGo products in 2011) and on Freescale, ST Ericsson and other ARM-based platforms. These platforms are targeted at the 4-10 inch segment for highly mobile devices and could potentially be used to make an ARM-based smartbook, just the the Intel Moorestown platform could.
Timescales for Intel Tablet hardware Q1-Q3 2011
Timescales for ARM tablet hardware: Now
For the mobile phone space, Medfield is the Intel platform that might appear in late 2011 (more likely 2012) and for ARM, lower-power and phone-oriented platforms are available now.
Timescales for Intel Handheld hardware: Q2 2011 (Oversize smartphones) 1H 2012 (smartphone)
Timescales for ARM handheld hardware: Now
Touch
For the phone and tablet market, touch is critical. The experience needs to be fast, multi-touch and up there with the best-in-class. For that, MeeGo 1.1 isn't enough. MeeGo 1.2 is being built with multi-touch in mind and this is planned for April 2011. Products built on the Beta versions will not be ready for market until at least two months later so unless Nokia is doing their own private work on multi-touch with MeeGo 1.1, high quality products are unlikely before that. With the next MeeGo conference planned for end of May 2011, it is the perfect time to launch a product that will be available in June or July. Whether Nokia chooses to launch their product at this time is difficult to tell. With CDMA support not planned until MeeGo 1.3 a launch in the U.S. would have to be focused around AT&T or T-Mobile but with stronger support in Europe, it would appear likely that a separate Nokia event would happen in Europe for the launch of their products.
Timescales for single touch products: Now
Timescales for multi-touch products: Starting June 2011
Battery Life
Intel products will need to be built on Oaktrail or Moorestown for the best possible battery life experience. We are moving to a world where 'always-on' will be the standard. ARM-platforms are already capable of offering class-leading battery life.
Intel Tablet battery life timescales (Oaktrail/Moorestown) 1H 2011
Intel Netbook battery life timescales: (Oaktrail) 1H 2011 (Cedar View) 2H 2011
Intel smartphone battery life timescales: (Medfield) 2012
ARM battery life timescales: Now
Security
Security subsystems need to be in place for carriers and that didn't happen in MeeGo 1.1. I'm hearing that 1.2 is critical for carriers so it hits the same timescale as those devices relying on the multi-touch user experience.
Carrier security subsystems in place: April 2011. Products. 2H 2011
Other products (non carrier): Now
Applications stores
As mentioned, OVI and AppUp are critical. MeeGo will only ship with a basic set of applications and for the best-of-breed consumer devices and to create the developer excitement that is, in-turn, a critical part of the application store, they need to be in place with payment systems.  With OVI expected only on the Nokia devices (Question: What application store will be available for ARM-MeeGo devices that are not from Nokia?) we know that it will be a Q3/Q4 timescale. For AppUp on MeeGo we are seeing some marketing campaigns starting now. Launch is likely to be on the Netbook platform first in order to capitalise on the existing Windows-based AppUp store and to enable MeeGo netbook variants to go out of the door as soon as possible. Remember, netbooks using MeeGo will not need any support for carriers, phone stacks, touch and other elements that can only be delivered with V1.2. Considering that V1.1 is available now and that we've already seen proposal OS builds from Linpus, we can assume that existing AppUp partners Acer, Asus, Samsung and Dell will be bringing out MeeGo options likely to drive lower-cost netbooks aimed at entry-level markets initially. Based on that, we should see AppUp for MeeGo netbook UX available in Q1.  For tablet/handheld user interfaces, this might not happen until V1.2 (It's on that roadmap)
Application store timescale for Nokia (OVI/ARM): Delivered with first Nokia handheld product after June 2011
Application store timescale for non-Nokia/ARM: Unknown. Currently no support
Applications store timescale for Intel / Netbook: Q1 2011
Applications store timescale for Intel handheld/tablet: 2H 2011 (After MeeGo v1.2)
Applications
Applications are starting to work their way through already. In the MeeGo release itself, media player, email client, calendar, sync, browser and other applications are already being worked on and there are rumors that KOffice will also be offered but as any smartphone user knows, discovery, sharing, enhancement and customisation through 3rd party applications is critical now. There is already a way for developers to make apps for MeeGo on Intel and ARM 'target' devices(SDK available here) but there is no support for the Application store yet. Intel have already set up an AppUp/MeeGo portal though.
Preparing applications for OVI is another story. Ovi is accepting Qt applications which will work on some existing platforms and the Nokia MeeGo products when they are launched.
Monetisation (OVI, AppUp) will stimulate the developer ecosystem and this will happen in the timescales shown above.
Finally When Will We See A Competitive Product?
What we see coming out of the MeeGo project is a demonstrator. It's a complete core with a functional user interface. It's not what we're likely to see on end products. In order to make a competitive product; One that has potential to seriously distrupt sales of other devices in the sector requires all of the above milestones to be met. Hardware, Application store, touch, battery life and something we haven't spoken about yet. The customisation, optimisation and branding process takes months and for a class leading product, could easily take 6 months. Adding in codecs, optimising and branding the content stores, optismising the base applications, checking security, spicing up the interface, writing the drivers and testing is a 6 month to 1 year project. Lets assume that with 1.1, the teams were able to start the process of building a product around MeeGo. In April they will get the features needed to finalise the product and then, along with the integration of an application store, you've got another 2-4 months of work ahead. The first competitive products, driven by investment from the core partners, will only hit the market in June 2011 at the earliest. For products from other vendors, expect that timescale to go into Q3 2011 because they will definitely hold back to see what Nokia do, what Apple do, how Android develops, how Chrome OS develops, how the MeeGo application stores grow and even, how Android on Intel develops. The first MeeGo products, in all categories, need to be very special to secure trust from external companies. (Note: It's likely that Intel and Nokia will invest huge amounts in external companies efforts to get MeeGo-based products to the market.)
Note on In-Vehicle0Entertainment and TV
I haven't covered these two categories in this article as we're focusing purely on the mobile/handheld/netbook computing market here.
Summary
We could see MeeGo netbooks with AppUp as early as January with 'features' such as quick-boot, lower cost, a simple-to-use operating system with a social-networking slant. We're unlikely to see too much excitement around these early devices though because platforms and applications need to develop to create products with any major selling points. ARM do have an opportunity to get MeeGo on a netbook-style device in order to create an interesting long-battery-life product.
Tablets could appear in the early part of 2011 as 3rd-parties are already working on UI solutions based on MeeGo 1.1 but for interesting multi-touch products, with an application store, this won't happen until around June 2011.
The first MeeGo smartphone requires MeeGo V1.2 and won't happen, either on Intel or ARM until around June 2011. That phone is likely to be a Nokia product and its success will be critical to MeeGo.
Everything up until this Nokia/MeeGo phone can be called Phase-1 led by Intel/Nokia investment. If these products show class-leading features and the developers start to create applications then we'll start to see Phase 2 products created through independent investment that are true indicators of MeeGo momentum. That story starts in Q3 2011.
Footnote: All timescales are estimates based on current knowledge.
The next MeeGo conference has been announced for San Francisco on May 23rd-25th 2011.
Want a chance to learn more about AppUp? I'm at the Apps World expo in London on the 1st Dec and AppLab in Berlin on the 3rd Dec.