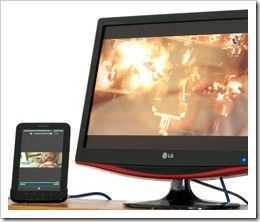 Sometimes we're lucky in Europe, sometimes not. With the Galaxy Tab we're generally lucky because Germany was one of the first countries to get mass-market availability. It's also one of the first places to get the Galaxy Tab HDMI Docking Station. Model number: ECR-D980
Recommended price is 49,90 Euros but let me just say this now don't buy it for that price. Not only is it available for much less (I bought it for 36 Euro) but it simply isn't worth 50 Euro. It's nothing much more than a stand and a break-out cable and once you've bought the HDMI cable to go with it, you're looking at a lot of money just to get the digital video signal from one connector to another.
Yes, there's no HDMI cable included which completely caught me off-guard. I ended up heading out to the local electronics shop where, of course, the lowest cost cable was out of stock. I paid 29 Euro for a mini HDMI to HDMI cable which is again, too much. The other thing you'll need is the power cable from your original Galaxy Tab because again, it's not provided and you need it to activate the HDMI port. That means if you want to charge the Tab somewhere other than the dock or use the cable for PC connectivity, you need to remove it from the dock. A royal pain in the arse and certainly not user friendly. The other cable problem has to do with the original USB cable. It's all of about 50cm long and just doesn't reach to most plug locations. Samsung have not thought this one through.
One more thing, there's no 3.5mm audio cable proved either but I guess that won't surprise you now.
As you'll see in the images, there are just the three ports on the dock. Mini HDMI, 3.5mm audio and the power cable input. Analogue video is not exposed on the docking port so you'll have to buy another cable for that (17 Euro street price) which means you'll have to remove the device from the dock, stop charging and connect the A/V breakout cable. Again, not elegant. The build quality is good and the base-located speaker openings are routed well.
You can also flip the Tab into landscape mode and use the dock as a stand…
Video Playback
Once you've got over the cable issue and got things connected up, you'll see various output styles that depend on device orientation and application control. For example, the home screen flips to fill the screen when you put the device in landscape mode. YouTube plays in full-screen regardless of device orientation. Games, such as Asphalt 5 HD, only show in landscape mode and video playback through the local video player or through the DLNA 'AllShare' player always show in full-screen.
I tested the output on two devices. One, an LG digital TV, the other, an LG monitor (both 1080p capable) and got two different results in terms of quality. It also highlighted some audio issues that you need to be aware of.
The LG digital TV worked well and seemed to display in a 'native' resolution although there were a few lines missing at the top and bottom of the screen. If the monitor has 1080 vertical resolution and the Tab, 1024, why are there lines missing? There's some overscan or scaling issue here on my TV. Playback of videos from the local storage was great and a 1080p trailer played just beautifully although without sound due to the lack of AC3 down-conversion. I'll talk more about that in a minute. Google Earth was fun too although the up-scaling from 1024×600 definitely shows up on-screen! I even tried a racing game. By holding the dock and device in landscape mode you can use the Tab as a controller and watch it on the screen. It's fun but not that practical with two cables hanging out of the back. Roll-on wireless HDMI because that game/controller scenario could really be something special.
On the second screen, an LG monitor, I got poor results. The screen showed the Tab as a 1080i input at 30fps but the resolution was very poor indeed. The home screen and browser text was pixelated and ugly; The scaling on this device just didn't work-out, even after checking monitor configuration. For reference, the display is an LG W2261VP as seen here on Amazon. Interestingly, when I played out a 1080p video, the quality was perfect as on the LG TV.
Audio playback
Audio is presented in digital format over the HDMI cable so you have the opportunity to break that out from your TV or HiFi system if supported but it it would have been nice to see an S/PDIF or TOSLINK connector for direct routing to a Hi-Fi system. Sure, many A/V Amps have HDMI inputs now but many (including mine) still use dedicated digital audio connectors. On my LG TV the digital audio pass-through worked and allowed me to connect my home Hi-Fi through an optical digital link.
In the monitor configuration mentioned above you need to be careful about audio because although an analogue audio out put is provided on the dock, this is disabled when HDMI is working. If you are using a monitor without audio subsystem and speakers, you need to make sure that monitor can decode the audio to an analogue audio port or pass it through to another digital audio port.  With a TV, you'll probably be OK. At least you'll have built-in speakers and you're likely to have a digital audio pass-through too.
Multi-channel audio
I experienced a problem with digital audio when you get to surround-sound tracks like AC3 WMA multi-channel or DTS. The Galaxy Tab does not decode these tracks to a stereo track for playback, either on-board or through the HDMI port. It would be OK if the raw digital audio track was simply passed through to the HDMI cable but doesn't appear to be. There's no way at all to get a surround soundtrack to an external decoder and this is something that could catch a lot of people out.  The only hope here is that Samsung include this in the next firmware or that I'm an idiot and have missed some configuration somewhere. [It could be that my TV is not passing through the raw digital stream to my Hi-Fi. Let me know if you have a the dock and have success with raw multi-channel digital audio pass-through]
Powerpoint Presentation
The ThinkFree Office presentation software outputs in landscape mode only which means that although the HDMI output is always full-screen, you'll have to rotate the HDMI dock through 90 degrees for on-Tab viewing. I tested a demo presentation with an image and default transition and although the transition wasn't smooth (see performance issue below) it was acceptable and interesting to see. A downloaded PPT with no transitions, worked well.
Bedside dock problem
The main reason for me buying the dock (apart from testing it for Carrypad) was to use it as a bedside dock. It would be an easy way to charge and an easy way to bring my media server content up to the TV I occasionally use. I also wanted to hook up some mini speakers for music. The problem is that as long as the HDMI cable is connected and there is some form of connection at the other end, the backlight stays on. If your TV completely disconnects the HDMI (and any terminating resistance I that I suspect is being detected) then it might work for you because unplugging the HDMI cable turns the backlight off but if you're not lucky, the backlight stays on. Even at low levels it's too much for many people and in my situation, i'll have to leave the HDMI cable disconnected until needed. That's not what I call user-friendly! A 'bedside' app that fixed these problems would be perfect. Timed profiles, easy access to alarms, backlight off (or very low-light clock) and other features would make it perfect.
Performance issues
Plugging in the HDMI cable affects performance. It's easy to see. The UI goes choppy and things take longer to operate. For video playback, the Galaxy Tab screen is frozen so there's no real issue there but you'll notice it in mirrored-screen scenarios. Although this is a noticeable issue, it hasn't affected the way I wanted to use the dock for A/V operations. If you're thinking of anything like PowerPoint presentations (from ThinkFree Office for example)  then there is a slight smoothness hit.
Remote PMP using DLNA
If you have the mini-HDMI cable though and are confident that you have content in the right format and a TV that will work then the dock could make a really nice and good-value remote video playback unit. I've been testing out various DLNA solutions and although Windows Vista media server doesn't work and Twonky Media Server (on Vista) isn't working 100% with the Tab,  I've been getting better results from a pure Windows 7 solution although not without the occasional problem. In a working set-up it makes quite a tidy remote media player using the provided 'AllShare' application. Note that large libraries take a long time to show on the AllShare application and don't appear to be cached for future use.
Click to enlarge. More images in the Gallery.
Round-Up
For most people, I don't think the HDMI dock is worth it. If it was 30 euro with a cable then, yes. If it was 35 Euro with a cable and power adapter – a must-buy but I'd recommend waiting for price drops or and aftermarket solution before going ahead unless you have a specific need that is covered above.
However well it works out though, I'll probably always be reminded of the poor power cable solution and that 20 euro HDMI cable I had to buy and when those surround-soundtracks don't play, I'll be annoyed all over again. The HDMI dock hasn't really worked out for me yet. Be careful when you make your purchase because it might not work out for you too.