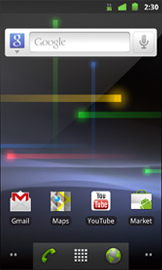 Yesterday, Google released the Android 2.3 (Gingerbread) SDK. This marks the official release of the latest version of Android, which will be launched baked into the Nexus S.
While Android 2.3 does bring a few welcomed improvements to the platform, it isn't doing any major overhauling; looks like we'll have to wait for Android 3.0 for that.
For users, Android 2.3 has a newly tweaked notification bar which looks to have some refined icons. I still think they look rather ugly compared to the iOS status bar icons, but at least they're evolving. There is also a slightly changed keyboard which Google says is faster and more accurate than the one found on previous versions of Android. Google is Finally adding a way to effectively select text for copy/paste actions which will function (not surprisingly) similarly to the iPhone's implementation of the feature. Copied or not, I can't wait to finally not be frustrated when selecting text on Android phones (besides a few phones that have custom tweaks for this issue).

Additionally built-in VoIP/SIP support for internet telephony has been included (something the Maemo devices [such as the N900] have been doing well for a long time), presumably supporting video chatting for devices being released with front-facing cameras.
YouTube has also been enhanced for in-page viewing (a la iPad) and a personalized homepage similar to what you find with the web desktop version of YouTube.
Android 2.3 feels like more of an update for developers than users. This will be good in the long run because while you might not see lots of enhancements right out of the box, but it adds tools for developers to be able to create great new features. If you're a tech head (and I have to imagine that most of you are, if you like Android), here's a video from Google showing off some of the improved controls and tools that they've added to Android 2.3 for developers: