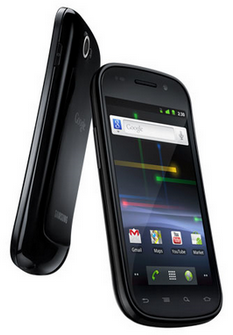 Google's second "Nexus inch phone has been pretty much fully revealed over the last few weeks, but has finally been made official today.
While Google's first Nexus phone (the Nexus One) was made in partnership with HTC, the second is a collaboration between Google and Samsung, resulting in the aptly named Nexus S (though, Nexus Two would have made sense to me…).
The unique part about the Nexus devices is that they receive Android updates as soon as they are released from Google. Other phones generally have to wait for their carriers or OEMs to push core updates down the line (which can either take a long time, or perhaps never happen), unless the user is willing to hack the latest builds on the phone themselves.
Aesthetically, the Nexus S doesn't differentiate itself that much from recent Samsung Galaxy S devices, but inside it's packing some unique features.

The Nexus S will be the first phone with the latest version of Android (2.3, aka Gingerbread). It also has a unique "contour inch display which Google is claiming is the first of it's kind to be included on a smartphone. Additionally, the Nexus S comes included with NFC (near-field communication) hardware, which will allow the phone to communicate with nearby object (think: paying your subway fare with your phone, or being taken to a website by waving your phone over a movie poster). Here is Google talking briefly about NFC on the Nexus S:
Aside from these interesting features, the Nexus S has most of the specs you'd expect from a top tier phone:
4 inch AMOLED screen (480×800) with oleophobic coating (fingerprint reduction)
1GHz "Hummingbird inch Cortex A8 CPU
512MB of RAM
16GB flash memory
5MP rear camera with flash, VGA front-facing camera (640×480)
WiFi b/g/n, Bluetooth 2.1 +EDR, GPS
Accelerometer, light sensor, magnometer (compass), proximity sensor, 3-axis gyroscope
I say "most inch of the specs because while the 5MP camera is high resolution enough to enable HD recording (1280×720 or 1920×1080), official information says that the phone is only capable of capturing video up to 720×480 (DVD resolution). This is an odd omission when most modern phones (including those of Samsung's Galaxy S line) are capable of recording at least 720p HD video.
Availability
Back when they released the Nexus One and offered it for sale directly through their site, Google wanted to "change the way people shop for phones inch. Since then, they've closed their online store and will now be making the Nexus S available through Best Buy on December 16th in the US, and through Carphone Warhouse and Best Buy on December 20th in the UK. The device will be sold unlocked for use on any GSM carrier for $529, or customers can sign up for a two year T-Mobile contract through Best Buy and receive the phone for $199.