I'm surprised that Intel have been allowed to announce partner names but in a presentation at the Barclays Capital 2010 Global Technology Conference, Paul Otellini has done just that and highlighted that Windows, MeeGo and Android will be on Atom next year.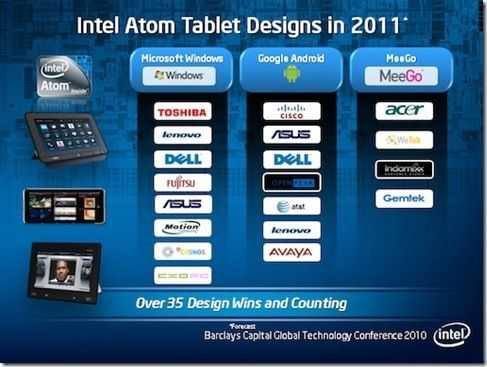 The report comes via CNet who tracked the live audio from the conference and picked up that the Android builds will be both Froyo and Gingerbread. He also highlighted that Oaktrail is the Windows-compatible version of the new platform and Moorestown optimised even further and supporting only MeeGo and Android. That much we knew already. We also know from previous information that smartphones on Moorestown are taking longer than planned. Behind the scenes, I'm getting the feeling that Moorestown won't be used for phones and that the focus is now on Medfield, due in late 2011. Note also that the Android build is behind MeeGo. That's information that we were given at IDF in Sept 2010 and it means that those devices could be planned for the second half.
Slightly disappointing is that the slide shows only Tablets and that the bulk of these are Windows. Some of those won't even be on the mobile platform because the netbook platform is going to feature. Focus should really be on unique designs such as smart-books, social netbooks and how about a bit of keyboard love? Continuing use of Windows with its lack of 'always-on' and business focus is just going to end up with devices that get bad reviews.
Highlight for me is Dell using Android. This will be on Moorestown and could be their 10 inch offering. If so, that's a great win for Intel.
The good news here is that Moorestown is ready. I heard only last week that it's been in production for months now. It only needs the OS to be completed and we're away with a new always-on option and the first X86 platform that doesn't support a Microsoft OS! I just hope that those MeeGo devices are going to be ground-breaking otherwise Nokia will NOT be happy!