As was forecasted. the Samsung Nexus S is available in the US starting today, just in time for the holidays. Those in the UK will have to wait until the 20th of this month before being able to waltz into a UK Best Buy or Carphone Warehouse to sang one.
Nexus S Tracking Page – Specs, Details, Links, and More
If you're in the US you've got two options You can buy the phone unlocked for use with any old GSM carrier for $530. If you are opening a new T-Mobile account, or are eligible for an upgrade, you can nab the Nexus S for $199. The phone is available through Best Buy exclusively, though it looks like for the time being, the unlocked option is only available in-store, while the subsided version can be purchased in-store or online. Definitely check with your local Best Buy before heading on over though, there's no telling how many each store has to sell initially, or if they allocate a maximum number that can be sold as unlocked.
No HD Video Recording (Sadly)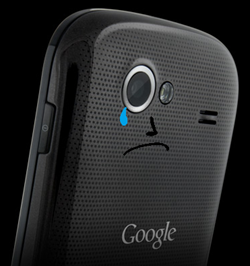 As we mentioned in our earlier story on the Nexus S, the device doesn't record HD video. This is a strange omission which I thought might have simply been a mistake as there was conflicting information on Google's Official Nexus S page. After getting in touch with Google, we've confirmed that the Nexus S only records 480p video (720×480). They've also amended their official Nexus S page to reflect this.
This is a surprise to me considering that the last two Samsung Android smartphones that I've tested have both been capable of 720p HD recording. Perhaps this could be changed with a software update, but it looks like out of the box, the Nexus S's recording capabilities will be inferior to most modern smartphones.