By now we're fully aware that the Fusion platform comprising AMD Ontario/Zacate CPU and Radeon 6250 can turn in some impressive 3D performance. With HD video decoding on board too it's a double-punch to Intel platforms with the Atom CPU but with the high-end E-series requiring power that most mobile computers can't deliver it's only the C-series (C-30 single-core and C-50 dual core) that we're concerned with here and in day-to-day usage mobile computing usage, where the CPU is all-important, we need to find out how it's going to compare with dual-core Atom CPUs
I have a personal interest in getting as much CPU power as possible in my netbook but all I want to do here is highlight some reports that are coming in via the C-50-based Toshiba NB550D. Overall, it looks like the high-end Atom N550 is still the best performing mobile CPU. Here are the test results we've seen so far.
Passmark, a company that collects 3rd-party reports via its own software now has a few reports in from the C-50. The first benchmark was received just a few days ago so be aware that there are only 2 data points so far. The C-50 is clocking in with an average CPU mark of 480. It's a better score than the older N470 (score:355) but the Atom N550 is averaging a score of 559 – 16% more.
Eprice have had reports of the NB550d before but on the 25th Jan a new report was posted that included PCMark05 scores. Unfortunately the device used is an engineering test sample with a single-core C-30 APU inside so bear that in mind. The report does links to a Cinebench mark of 1271 for the C-50 CPU, however. For the Atom N550 CPU i've found cinebench scores of 1504 and 1461 and 1444 – An average 15% more.
Netbooknews are currently testing an NB550D and has delivered a full suite of test results and a video.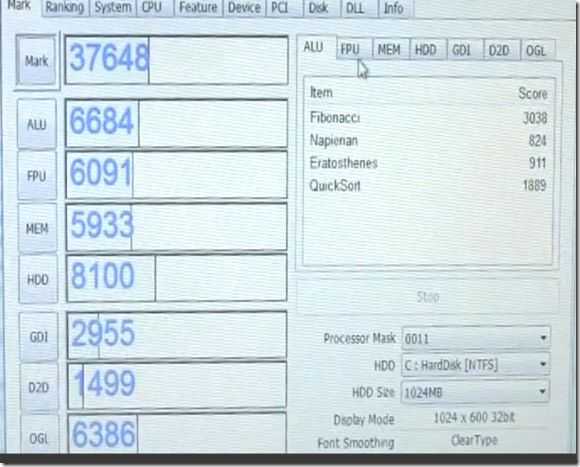 It's an interesting Crystal Mark score. The total is about the same as I've seen on two Atom N550 based devices but the CPU score is down, especial for the ALU tests. Below is a result I took from an Acer D255. (Atom N550.) I saw similar results on a Samsung N350.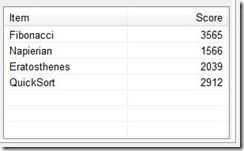 Overall then, were seeing the C-50 CPU score lower than the Atom N550 .
It's not the complete picture of course (Graphics and video decoding on the C-50 APU is in another performance bracket altogether!) but for those wanting to number-crunch on a netbook, these results should help you decide.
With my requirements firmly in the 'office' space with a view to some low-end video editing, I'd choose the dual-core Atom-based devices. What about you?