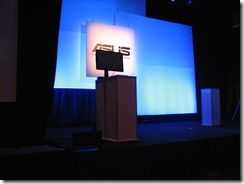 We're in and waiting. I'll try and update as we go along…
1341hrs now. It starts at 1400. Lets see how the Wifi holds up!
MeetMobility co-podcasters next to me…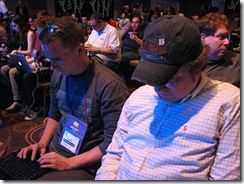 Nicole Scooter (Netbooknews.com)  and me….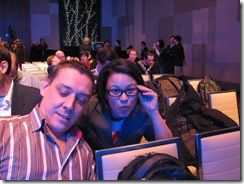 Joanna Stern of Engadget next to me. I'm honoured!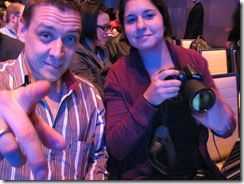 View from outside. This is what we can expect today. Will be interesting to hear if Windows 7 Compat is to be used or if they went Android.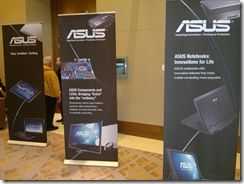 1353…still waiting. Journos at back of hall are scoffing all the sandwiches. Typical!
1400 and just as expected. the WIfI quality has dropped to a snails pace. Updates will be slow! (Update: They were – we didn't get a single live update in!)
1408 – Now starting…
Jonney Shih starts with green themes and awards…3398 in 2010!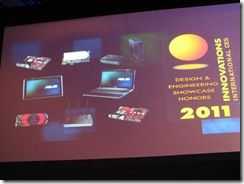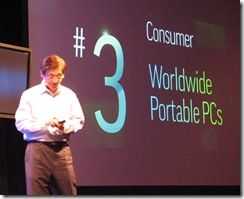 Jonney promotes ASUS intention to combine innovation and choice. "Choice of Champions" – Jonney talks about gaming. We're on standby now mobile news…which starts now. 4 new products. 3 Androids. 1 Windows Tablet.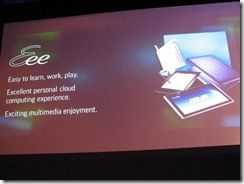 Epad Memo. Snapdragon Android device. IPS touchscreen.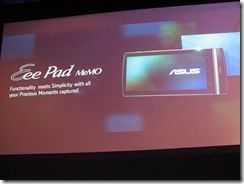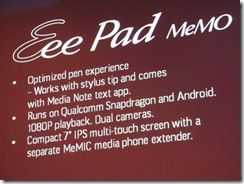 Eee Slate EP121. 12" Core i5-470UM Windows 7. 64GB SSD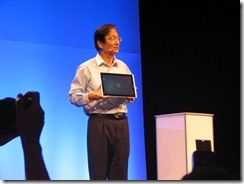 "Most powerful tablet in the world"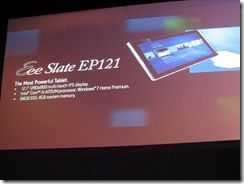 Now we're getting a demo of the EP121 capabilities. 1080p, Photoshop editing etc.. Video later.
EeePad Transformer.. Android device with detachable keyboard. Built-in battery.Full size qwerty. Card reader and additional USB ports.
Transformer specs: 1280×800 12" IPS, Capacitive Touch. Thickness: 12.98mm, Dual cameras. 1080p playback. Nvidia Tegra2. We see a phone signal on the screen. No word on Android OS version.
Extra ASUS widgets. . .Wave share (DLNA) included.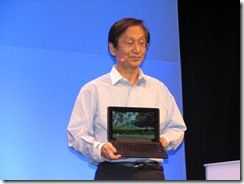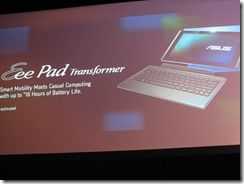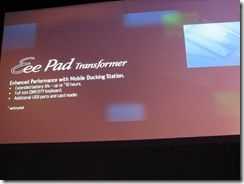 DLNA demo failed due to poor WiFi here!
Now getting a demo of the keyboard. Reminds me of a Toshiba AC100. Hoping its better!
Finally. Eee Pad Slider.
10.1 IPS. Dual Cams. Wireless N.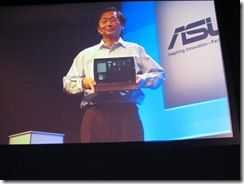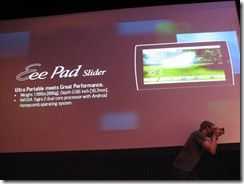 Demo. Looks like the HTC Shift is back…and bigger. Too big for thumbing that's for sure.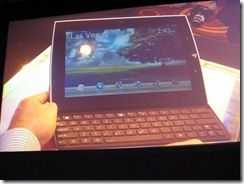 Summary prices and schedule. Could indicate Android versions…
Eee Slate $999-$1099
Eee Pad Transformer $399-$699
Eee Pad Slider $499 – $799
Eee Pad Memo $499 – $699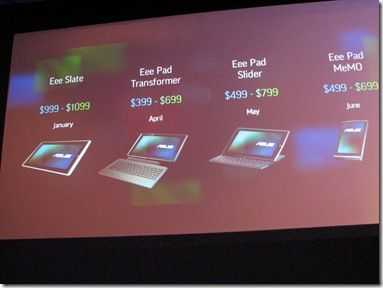 Now we're seeing a quick overview of Waveface and 'Triple-Pay Digit-Net' – cloud services and user interface concept.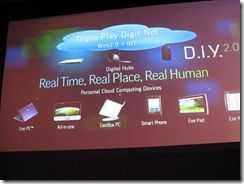 This is something I don't quite understand. A bunch of trendy keywords for the time being. Jonney keeps talking about a silicon brain! Relates to Waveface, the user interface work that ASUS is doing. More research needed on that methinks!
We're closing with another demo – I.R.I.S – Concept research program. Again, a lot of marketing here. No real products.
That's it for now. Videos later.