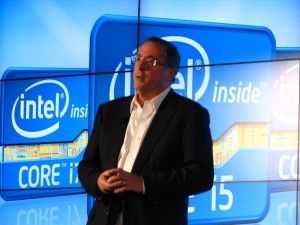 Although Intels 'Core' products rarely reach down into our mobility segment here on UMPCPortal, I attended the launch of the second-gen Core CPUs at CES today to get some idea of what technologies could be coming down the road and how it might affect the positioning for Atom-based products.
Before the main announcements this morning though, Paul Otellini took a few minutes to talk about other products in the Intel portfolio. Two of those apply here.
Firstly, 100 new atom-based netbooks and tablets will launch in the first half of this year. Secondly, Paul announced that Meego and smartphone product announcements will be made at MWC in Barcelona. That's in about 5 weeks.
The Core architecture of CPU+Graphics+Memory controller on one piece of silicon is being echoed in the Atom world and one of the main messages today was that on-chip graphics can be as good as discreet graphics and that over the last 4 years, the solutions have got 25x more powerful. Unfortunately we're not told how much that affects power ratings. I have no details of the ultra-low power versions of these CPUs but there was no mention of this in the press conference so it's probably fair to say that the first wave of 2nd-gen Core products won't be anything for even high-end netbook, tablet or ultra mobile PC devices. The performance gap above Atom and below Core is getting very big now!
We saw an interesting content delivery product being announced today that could potentially make it to Atom. Intel Insider. This isn't a store concept like AppUp but a silicon-based security solution that is giving film studios the confidence to deliver early release HD content to PCs. We already know that Atom is 1080p-capable so it would make a lot of sense to bring Intel Insider to Atom. It's a closed-wall delivery mechanism which some people won't like but it could help bring badly-needed content to Intel-based tablets and netbooks. We could potentially see the technology being used by AppUp too.
Wireless Display got a boost with the announcement of the 2nd generation of the product. It now includes 1080p support. I'm hoping that this reaches Atom platforms because cables and small, mobile devices don't go together so in my opinion, Atom products need this technology more than the laptops and desktops.
The netbook and tablet platforms slipped behind a bit today leaving a huge gap in terms of performance. I hope we'll hear something very soon that addresses this, especially at the performance end of the ultra-mobile market.