Google have just released a video demonstrating Android 3.0 on the Android Developers Youtube page however it appears to have been accidental as the video has just been pulled. Fortunately Engadget managed to get another copy of the video and It shows a version of Android that is like nothing we have seen before.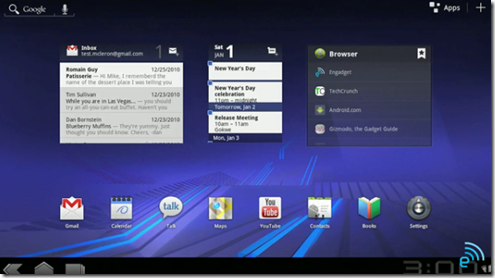 It's been rumoured for sometime that Honeycomb is a special version of Android dedicated for the tablet form factor and the video confirms this declaring Android 3.0 is "Built Entirely for Tablet inch.
The video shows massive changes including a totally new user interface and home screen, a new Android keyboard and tablet versions of some of the Android apps we have come to know and love, including Gmail, Youtube, GTalk with video chat and a whole lot more.
It also appears that Android 3.0 has a touchscreen based navigation built in to the user interface at the bottom of the screen which could indicate that physical home, back, menu and search buttons are no longer a requirement for Google branded Android devices.
I expect Android 3.0 will become official very soon.
Update: The video is now live on Youtube again and is embedded below.
Source: Engadget