We had a good chat with Lenovo U.S. at a CES event last night and it seems they're quite serious about launching a 10 inch dual-mode tablet (capacitive/digitiser) later this year. Specifications aren't finalised yet but think about a competitor to the HP Slate 500.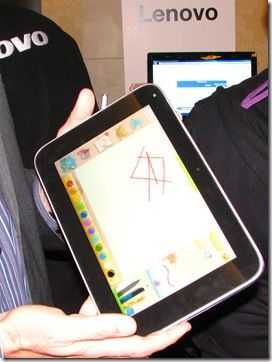 The device will run on Oaktrail (1.5 or 1.6Ghz, the device we saw was running 1.5Ghz) and will run Windows 7 plus some UI layer that Lenovo are working on, possibly with Microsoft. It has a docking port, 2GB of RAM, a minimum 32GB SSD and, importantly for people wanting to preserve the use of the pen-input facilities of Windows 7, a digitiser. Finger input is through the 4-point capacative touchscreen which is 1280×800.
Lenovo are quoting 6hrs with WiFi on which is falling in line with other figures we're hearing but at 790gm, it also seems very light. It's 14.5mm thick.
Price has obviously not been finalised but Lenovo are aiming for a $499 entry level price. Quite what they launch at really depends on the other Oaktrail devices that launch.
For the time being, its called the Ideapad Slate.
There are some more images in our gallery.