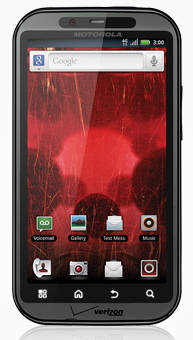 Motorola is stepping up it's game with a powerful new Droid phone, the Droid Bionic. This is Motorola's first 4G phone that will take advantage of Verizon's LTE 4G service. This powerful new Droid sports a dual-core 1GHz CPU and Motorola claims that it'll be able to record and edit 720p HD video directly on the phone. Looks like Motorola is also going to be providing some sort of integrated videoconferencing functionality to take advantage of the phone's front and rear cameras, though there isn't a lot of detail about this yet. I hope we don't see proprietary videoconferencing solutions from several different OEMs… Google should really  create a universal system for this, but they've yet to do so. The Droid Bionic has a "qHD inch display (960×540) that levels the playing field with the iPhone 4's "retina inch display (960×640) [note that the resolution difference is due to Android's 16:9 screen ratio, while Apple prefers 4:3].
We've got the full specs for the Droid Bionic straight from Motorola:
Android 2.2
4.3 inch capacitive touchscreen @ 960×540
nVidia Tegra 2 AP20H Dual-Core CPU @ 1GHz
512MB of RAM
14GB of integrated memory
MicroSD slot with support for additional 32GB of memory
4G / 3G – LTE band 13 / EVDO
WiFi b/g/n + Bluetooth 2.1
HDMI out (likely mini-HDMI, but it's unclear)
8MP rear camera with dual LED flash and autofocus, 720p recording at 30 FPS
0.3MP fixed-focus front facing camera
Pricing and availability has yet to be announced, but we'll let you know when we hear something (possibly at Verizon's CES conference later today).