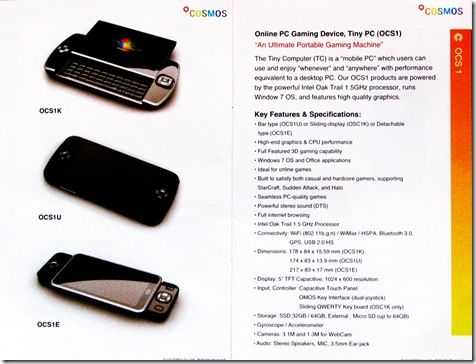 I've got bad news for many of you that were very interested in the Ocosmos OCS1K slider ultra mobile PC today. The slider version has now been dropped (Official. It won't be produced.) in favour of the mini tablet version you see in the middle above. For a company that tries to promote its own multiway pad input solution, I guess this isn't surprising.
Specs are shown above and the only thing I can add is that the battery should be bigger in the new version leading to longer battery life. If you look at the Oaktrail figures so far and the size of the device you're probably looking at 4-5hrs of usable battery life.I can't see how they could really squeeze much more out of it in real-world scenarios.
Here's a video from the very noisy Showstoppers event last night.