The rumour had been going around but it's now confirmed that Samsung have a 10 inch convertible tablet/netbook on Oaktrail ready to go in March.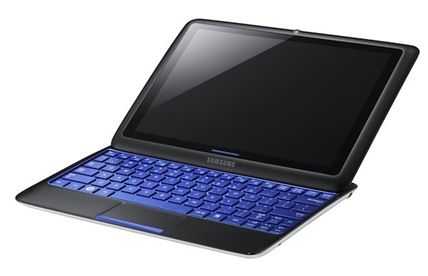 We missed the press event at CES this morning to write up some other articles so we're picking this up from other sources but according to Engadget, it's an Oaktrail-based device (1.66GHz Z670) with 32 or 64GB SSD, 2GB of RAM and a high-brightness 1366×768 capacitive screen. There's no mention of a digitiser in the press release. As for battery life…
The six-cell lithium-polymer battery and innovative Eco Light Sensor, which conserves energy and adjusts screen brightness based on available ambient light, allows the 7 Series to last for up to 9 hours.
Use the usual 2/3rd rule on the marketing figures there and you still get a reasonable 6hrs battery life. At 1KG this looks like an interesting take on the netbook. Price? $699 with options for WiMax too.
I like the design but I'm also seeing a 1KG Windows tablet which is just a little too heavy and not running the right OS for some of the consumer tablet scenarios that are taking off. Without the digitiser it's not going to attract hard-core TabletPC users either. An expensive netbook? Style exercise or perfect for the living room? What do you think?
Via Engadget
Samsung Press release is available in full in this Slashgear post