The product page for the Acer Iconia Tab W500 is now live and populated with links, specs, gallery and videos.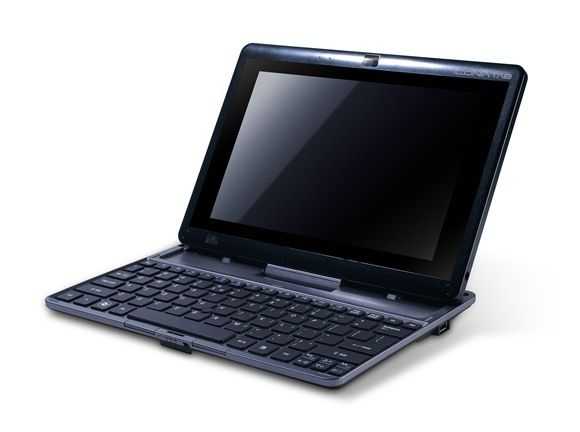 I've been through the details with a fine toothcomb and on one had I'm quite excited about a sub 1KG tablet with an acceptable CPU, good GPU, hi-res wide-view screen, UMTS and docking station for 599 Euro (current average online prices, Germany) but when you look at the weight / battery life ratio, it isn't that good. Acer have only managed to squeeze in a 36Wh battery which means you're looking at 3-4hrs usable battery life. Add the dock (which doesn't look like it's built for the road!) and you're up over 1.5KG.
Taken as a tablet only, it actually looks like an interesting proposition. With CPU power up at the top end of the netbook range and GPU that blows away anything based purely on Intel netbook platforms it should perform smoothly. 2GB of RAM and Windows Home Premium give it media serving capability. Throw in the UMTS/HSDPA and it gets even more exciting.
See the W500 gallery for more.
At the end of the day, and specifications list, I've a feeling that this is going to work well as a hot-desking solution. It should serve well as a home desktop for anyone not getting involved with hundreds of browser tabs or video editing and the grab-and-go capability means it can be used in a more casual manner now and again. It looks fun too!
For ultra mobile PC fans though, it's just too heavy. An upgraded 1.25KG Asus 1015PN with 6hr battery would be a much better choice for true mobile computing.