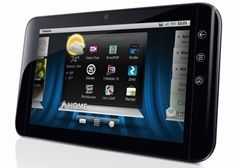 $450 for a 3G-enabled (HSPA+ no less) 7 inch tablet on one of the fastest ARM-based processing platforms there is with hardened capacitive multitouch screen a 5mp auto-focus camera and Android 2.2 isn't a bad price at all. It beats the Galaxy Tab on price and performance, that's for sure. The only problem is that, as always, you have to look for the showstoppers. With the Dell Streak there a number to consider.
Battery life There are reports coming in from reviewers that the Dell Streak 7 isn't making it though a day under normal (reviewer) usage.  Note that the battery is only 10Wh (The Galaxy Tab has a 15Wh battery)
Android 2.2 Android 2.3 is out and the Tablet-focused 3.0 is coming up soon. In fact, Android 3.0 is the first to be optimised for a multi-core processor so there's a mis-match here.
Screen quality 800×480 is great for gaming, videos, navigation and many other functions but when it comes to reading, the lack of resolution is noticeable. Not only that but there are reports that the screen brightness isn't as good.
On one hand, the Galaxy Tab can get a little sluggish so it would be nice to have something with more ooomph. On the other hand, it that means having to charge twice every 24 hrs, it's not worth the bother in my opinion, even if it saves $50-$100
Maybe a Wifi-only version with a lower-price would be more interesting to people?
Check out all the reviews that are now listed in our tracking page which also includes a comparable products. We're liking the look of that Eee Pad Memo right now!