I'm watching live blogs of the HP WebOS event where there's no mention of Palm!
They've talked about WebOS and launched the HP Touchpad. This is targeted squarely at the iPad market. It couldn't look more similar but with dual-core CPU and a great OS, this could be something you might want to team with a keybaord for some productivity. More information coming but specs, images are below.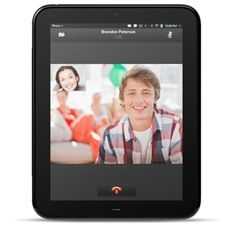 Image via Engadgets live blog
More images from the gallery:
Specs, via the event and from leaked information and images.
Manufacturer: HP
Model name: Touchpad
CPU type: Qualcomm APQ8060 (Dual Core)
CPU speed: 1200 Mhz
OS: HP WebOS
Display Size: 9.7″ 1024 X 768
Screen Type: LED-Backlit LCD
Touch Technology: Capacitive Multi-touch
RAM:

512 MB

1Gb (Thx @LeonVeraa)
Flash: 16 GB
Keyboard: NO (On screen)
Mouse Pointer: NO
Battery capacity: 24 (Wh)
Weight: 700gm / 24.7 oz.
Size (w/h/d mm): 240/190/14 mm
Size (w/h/d inches): 9.4/7.5/0.6
Physical Interfaces
Micro USB
Mobile sim-card slot
Headset i/f (Mic+Line)
Wireless Interfaces
802.11 b/g/n
BT 2.1
Cellular Options
Additional Specs and Accessories
Stereo speakers
WebCam 1.3Mp
Notification Light
Accelerometer
Ambient light sensor
Compass (Digital)
IPS Display
Microphone
Gyroscope
Optional:
3G voice/data modem
A-GPS (Internet Assisted) (With 3G option)
More information, links and videos will be added to the product page….
Here's a video from the event followed by the official teaser video.