Mobile World Congress is well underway with announcements and product launches coming from a bevy of manufacturers, HTC included.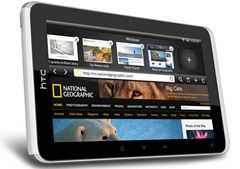 At their press conference this morning they announced no less than 6 new Android devices, one of which is the Flyer, a 7 inch 1.5GHz packing tablet weighing in at  415 grams.
The Flyer has up to 32GB of internal storage expandable via microSD card, 1GB RAM, Wi-Fi, Bluetooth 3.0 with A2DP, 3G, GPS and both front and rear facing cameras at 5 and 1.3 megapixel respectively.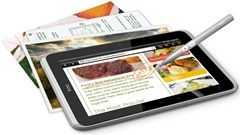 HTC plan to differentiate from other tablet manufacturers by including a capacitive stylus for handwriting, note taking and general annotation. Notes can be captured in ink or voice and have built in Evernote synchronisation. Also included with the Flyer are access to several new key services from recent partnerships or acquisitions that the company has made. Their recent investment with OnLive, a gaming service that renders 3D games and streams games to your device see's integration with the Flyer whilst HTC's acquisition of Saffron Digital will provide access to downloadable movie titles via the new HTC Watch application.
At first it looked pretty chunky to me in the press photos but JKKmobile has managed to get his hands on and compare it to the Galaxy Tab and the difference was fairly minimal.
Whilst its certainly got a lot of character I have to wonder about the new tablet version of HTC Sense running on a Android 2.4 core, sure there will be a lot of additional functionality added in typical HTC fashion but with Honeycomb around the corner, its a risk.
Whilst we wait for Chippy to do his thing and get some hands on time check out JKK's video;