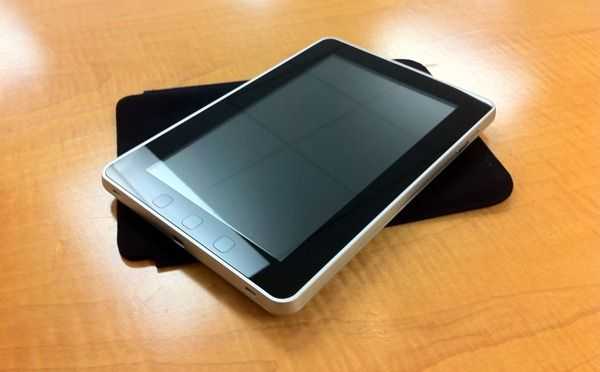 We've mentioned the other day that we had an Enspert e201 [tracking page] inbound for testing, and it has arrived. I had to chase the FedEx truck several blocks down to get the box yesterday, and I did it all for you, dear readers! The Enspert e201 (which is available soon, exclusively from Dynamism) is being branded as the Identity Tab, here in the US.
I'm really surprised with the build-quality of the Identity Tab so far. It looks just like an iPad and I'm dreading the "hey is that a mini-iPad? inch questions that I'll get when I'm using it out of the house; they may have copied the aesthetic, but they were fortunately also able to nail the build-quality. I'm really digging the physical buttons on the Identity Tab. The last three Android devices that I've tested (and numerous ones that I've covered) all use capacitive Android buttons (the Home, Back, Hidden-Menu, and Search buttons). The Identity Tab (though it might be lacking the search button) actually has physical clickable buttons, and I love it! The feedback on them is great, I don't have to guess whether or not I've actually pressed them.
As I mention in the video, the Identity Tab is running Android 2.1 at the moment, but will be updated to 2.2 before shipping to customers. I think this is much better than promising a 2.2 download at some point later because companies sometimes don't come through (*cough*Samsung*cough*), and even if they do, the process isn't always easy! The device will also have official Android Market access when Android 2.2 comes through (we'll have it on the device in about a week) and that will enable us to do much more with it. Stay tuned for more to come from the Identity Tab over the next week or two.