Today's announcements by Nokia (there are many to sort through) have shocked a lot of people. The major focus here is that Nokia will now use Microsoft (Windows Phone 7) as their primary platform for smartphones. I want to emphasise that this is a revenue generating strategy. It doesn't include disruptive computing devices which indicates the removal of risk elements within Nokias strategy.  Symbian gets turned into a 'franchise' platform (cheap, stable and, probably, with less focus on corporate support.) Important for the financials is that R&D spend drops. Symbian –related spend drops away completely. MeeGo will get hit very hard here too. Whatever way you look at it, near-term investment in MeeGo from Nokia will drop.
This slide says it all.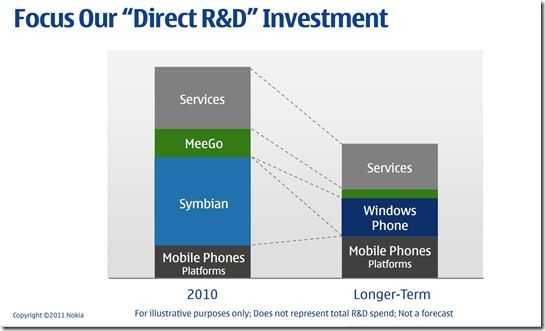 The message is clear. MeeGo isn't ready to be used for a smartphone platform in Nokias portfolio. Perhaps if Nokia had continued with Maemo, it would be ready now? Other potential partners in the MeeGo ecosystem will take note of the money spent on R&D by Nokia during this partnership and will look to see what Nokia develop over the next 12 months. Adding to the financial hit, this knocks confidence levels in MeeGo.
MeeGo remains in Nokias strategy but the message we see is that it will be used to experiment with the next generation of disruptive products. Open-source is gone from Nokia's revenue-generating strategy. We've heard nothing about an expansion into tablets, smart-books or other non-phone devices so clearly, this indicates that either Nokia don't want the financial markets to speculate about this or that they really don't have a strategy at all here. Nokia have re-affirmed their commitment to delivering a Meego 'Device' this year and we suspect that this is an Intel-related commitment for a tablet in the 5-7 inch range to match focus on mobility, clear separation from WP7 devices and to match Intel's Moorestown platform design limitations. Other MeeGo development work including chipset and industrial design (wait for it, this bit will hurt MeeGo fans) will be 'repurposed' in Windows phones.
Where does that leave MeeGo?
The Linux Foundation own the MeeGo brand, take care of the contributions and offer it out as an open-source solution. That hasn't changed. Linaro, the ARM-focused organisation that can assist ARM product designers to match MeeGo to specific ARM-based platforms is still there. Nokia are still contributing. Intel are still contributing. Intel are still building platforms and services for MeeGo. MeeGo remains one of the best cross-product solutions based on Linux and is the only solution that includes dedicated hardware, development environment and (if AppUp for MeeGo launches at MWC as we expect) applications store. It is still the 'complete stack' solution I mentioned last week. What does happen is that Nokia now can't be relied on as someone that will put a strong brand on a range of MeeGo products. Intel lost a launch partner.
Where does that leave Qt?
Qt will not be used on Windows Phone 7 devices. Without a doubt it waters down the proposition of developing for Qt and as a result, for MeeGo. Todays announcements reduces the potential of Qt to attract developers. On the plus-side, it probably removes OVI as a competing application store leaving Intel to focus on AppUp as the primary application store for MeeGo. A lack of direction for Qt is probably the most significant issue for MeeGo now.
Intel "remain committed "
We asked Intel for a statement and we got this.
While we are disappointed with Nokia's decision, Intel is not blinking on MeeGo. We remain committed and welcome Nokia's continued contribution to MeeGo open source.

Our strategy has always been to provide choice when it comes to operating systems. MeeGo is one of those choices. We support a port of choice strategy that includes Windows, Android, and MeeGo. This is not changing.
MeeGo stability.
Right now, Intel need to secure some significant product partners for MeeGo, Moorestown and Medfield and to shore-up the development ecosystem by pulling together partners that will also use Qt. Qt is now the burning platform which means AppUp on MeeGo is at risk too.
MWC starts in just a few days and we expect this to be a huge software event for Intel. MeeGo, Appup, IADP, AppLabs and other activities are being showcased. Intel, more than ever, need to use MWC to announce partners.
Stay tuned to Carrypad and we continue to follow this important story over the next week.