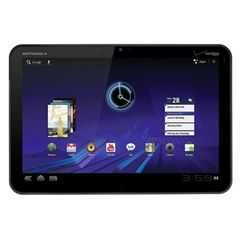 There is no doubt that the Motorola Xoom / Honeycomb combination has caused a lot of tablet buyers to hold-back on their purchases. It's understandable because they will want to see what Android 3.0 and the dual-core processor offering really gives them in terms of value for money.
I've just finished adding the Xoom to the product database here and was quite impressed. The weight seems good and the additional barometer and gyroscope sensors could be useful when new applications start taking advantage of them. That's one of the key things to think about with the Xoom though, the apps. How long will it take for applications to go, not only 'HD' with 10 inch screen support at 160dpi but to add fragments and support for multi-threading and the unique features of the Tegra 2 GPU?
I certainly want to get some quality time with the Xoom as soon as possible but in the meantime, I've scribbled a few notes down about things I DONT see mentioned in any specifications or marketing information.
Video codec support.  While Android 2.0 offers better streaming and media transfer capabilities, it doesn't add much to the codec support. Of course, you can only include so much in an open-source operating system so it's up to the manufacturer to add support in for other common formats. I don't see any mention of WMV or DivX and the MKV container format. OGG? With an HDMI out port you'd expect multiple video codec support AND DLNA certification.
Audio. Wireless audio transfer over Bluetooth (A2DP) isn't easy and isn't high quality. How about some APT-X support in the A2DP protocol Motorola for some CD-quality wireless audio?
Browsing speed. Just how fast is the dual-core processor going to make it. I estimate that 2.2 was about 20% faster than 2.1. That 2.3 added little but that the dual-core CPU under Android 3.0 should add another 20% speed improvement. You'll be looking at netbook browsing speeds. What's the tab-limit? Is it still 8 tabs?
Battery life. So far we've seen average battery life figures coming from Tegra 2. The 2nd core WILL add to the power envelope and with Dalvik attempting to use both cores, it might impact battery life. With a weight of 730gm though I expect Motorola have at least squeezed in a 20wh battery pack. It's going to need it. That 10 inch screen is LED backlit from what I can tell.  Would it be nice to have a single-core long-battery life mode?
Size. 10 inch is great for reading large amounts of text and perfect for the new generation of tablet-based magazines and newspapers. Unfortunately, 720 grams isn't. Watch out for that if you are thinking of going handheld for any length of time.
USB OTG. I don't see any mention of this so there's no way to plug a USB keyboard and mouse in. Or a USB stick. Or that fantastic idea that Nokia use, the USB OTG TV and radio receiver.
Mic Array. For HQ video and audio calls (a feature of Honeycomb) I'd expect to be able to use the device without headphones. A dual-mic array can really help here.
HD cam – Does it have continuous auto-focus? Are there any camera features over and above what Honeycomb provides? Probably not. And what about the quality of the optics?
Stereo speakers? I only see one speaker port on the device.
FM radio / transmitter. FM radio is still the lowest-power method of receiving audio broadcasts. An FM transmitter will help get that audio to the back seats of the car for the kids to watch a video together.
Removable battery. One to note because it doesn't have one, like most tablets.
Is the headphone port a headset port?
Analogue video out – Unsupported I believe.
Stand. Flip out stands are worth having.
Voice call capability? SMS, MMS capability. EU video calling?
Consumer IR. I still don't understand why these don't appear on tablets. A TV-remote app would be the ultimate in laziness.
Multi-track audio pass-through via HDMI. If the unit can't handle AC3 or similar, you might not be able to play the audio. The same problem occurs on the Galaxy Tab and it is annoying!
Haptic feedback / vibration notifications
Split keyboard for two-handed use in landscape mode?
Tethering to phone for non-3G use?
Scratch resistant touchscreen?
Is there anything else you're wondering about?
The Motorola Xoom is going to be a breakthrough device, make no mistake. Honeycomb finally stamps the 'tablet' seal of approval on Android and the dual-core Tegra 2 platform is going to shine. There are some nice accessories too but don't let all the marketing fuzz distract you from your task of finding a tablet that suits YOU! Make that checklist now!
The Motorola Xoom specifications are now in the database.
More on tablet design:
Making a HIT. (Your Checklist for a Quality Handheld Internet Tablet)
Notes on productivity issues with Tablets: