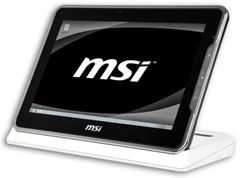 The MSI Windpad is finally available to order in the U.S. (as the Windpad 100W) and in Europe (as the Windpad 232W) and to me it looks like a mish-mash of a Tablet PC that aims to be an all-rounder on specifications and yet ends-up being a master of nothing.
The 10 inch screen is 1024×600 – average. The capacitive screen sits on top of the mouse and pen-focused Windows 7 – Mis-match. The GMA500/1.6Ghz Menlow platform isn't the best at helping Windows 7 along. An 800gm weight is unlikely to house a battery that offers more than 4 hours. The U.S. version appears to be missing the Bluetooth module. The price isn't exactly stunning.  There's only one USB port.
With an SSD, a 1.6Ghz Atom and 2GB of RAM you'd expect it to run reasonably well but Engadget reported from CES that "Windows 7 is seriously laggy and unresponsive inch which means it could have a slow SSD set-up inside.
The differences in specs between the 100W and 232W are subtle but it looks like the EU gets the more complete tablet package with Windows Home Premium and Bluetooth included in the 232W. Oh, and we're not sure if that docking station is included too so please check before ordering. Better still, wait for some reviews to filter through first. We'll add them to the product page when we find them.
I'm not a big fan of 10 inch tablets myself but I do know what it makes to create a good mobile TabletPC and a good consumer tablet. The two often require different approaches that can't be addresses in a single product. That single-product approach is what MSI appear to have attempted here.
If the Windpad drops in price, comes with the dock and proves itself through reviews then it might be worth taking a look at as a docked hot-desk solution but for other scenarios, I think there will be better solutions out there.