Out-of-the-box, the Acer Aspire One 522 is a very decent netbook. 3D graphics and HD video support out-pace anything that's built on an Intel platform and with a dual-core 1Ghz CPU that challenges the dual-core Atom at 1.5Ghz AND keeps the battery drain down to impressive levels, a 1280×720 screen and a reasonable build quality you have something of a bargain at 299 Euros but I wanted to see just how much I could get out of the Aspire One 522 if I pimped it out with a RAM, storage and OS upgrade. The results have been impressive; But there's a limit.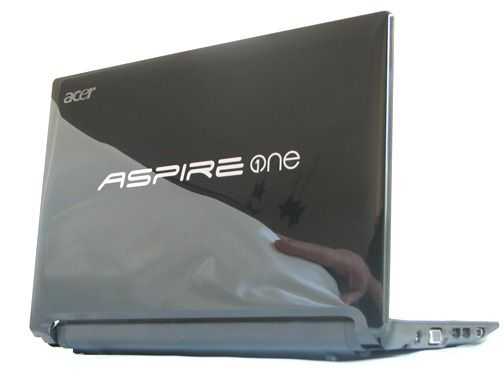 The Acer Aspire One 522 is built on the AMD Brazos platform with the Ontario APU. The CPU is a 64-bit part and supports 4GB of RAM. In the standard build, however, it is delivered with 32bit Windows Home Starter, and 1GB RAM. Even with a RAM upgrade it is OS-restricted to 2GB of RAM usage. Clearly an upgrade to Windows Home Premium 64bit with a clean install over 4GB of RAM is the easiest way to enhance the device. I spent about 125 Euro on a Home Premium license and a 4GB RAM stick to achieve that but before I did, I took a Runcore Pro IV 64GB SSD (2.5 inch SATA) worth $150 and dropped it in with a copy of the standard OS build. If I was to recommend just one upgrade, this would be it. The SSD cuts boot times and application startup times in half and gives the system a much better feel all-round. Lets take a look at the results using a CrystalMark test suite.
Using CrystalMark 2003 (a simple, easy-to-run suite that I've been using for 5 years) I tested the stock system and came up with a respectable score all-round.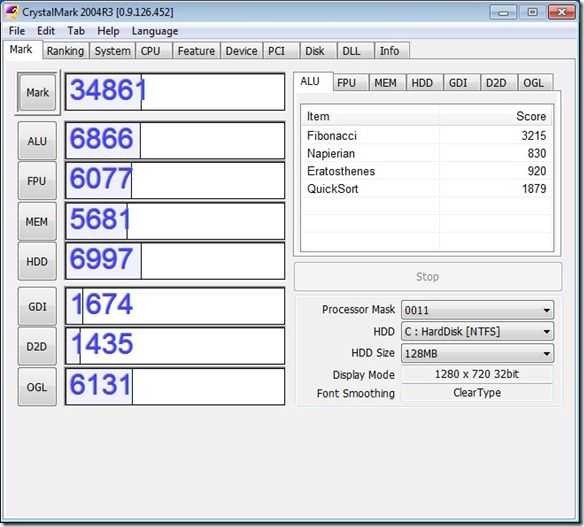 In comparison, a Pinetrail –based netbook (Single-core 1.6Ghz) will turn in about 25K and a dual-core N550-based system like the Samsung N350 gives a similar 35K score but most of that score comes from the CPU. A 1.6Ghz dual-core Atom-based Asus Eee PC 1015pn due to be launched soon clocks in at an impressive 45K. While the AMD-based system is good, it's not class-leading.
By dropping in the SSD though, the HDD score goes through the 100MB/s barrier and really gives the system a boost along with the scores. Here's the CrystalMark score after the SSD upgrade and the replacement of 1GB RAM with a 4GB stick (2GB enabled in Windows Starter.)
I was surprised to see that some of the CPU scores went up so much after the disk and memory swap and I was unable to repeat the 8270 ALU score at a later time but the important thing here is the jump in disk performance. You can see the 'HDD' score at 14648 and the sequential read speed at up to 108MB/s which is about double that of the original disk.
How Do you Upgrade RAM and Disk on the Acer Aspire One 522?
Before I show you the results for a fresh 64-bit Windows Home Premium install (which frees up the full 4GB of RAM) let me show you how to take apart the netbook to upgrade it. The video shows my early attempt at taking apart the device so please take note of the annotations because you don't have to remove the outer casing screws, you don't have to remove the two rubber feet and you don't have to disconnect the keyboard. Be careful of the keyboard catches too. I have already broken two of mine and I've seen a report from someone who broke all of them meaning the keyboard would have to be stuck down permanently with glue or tape.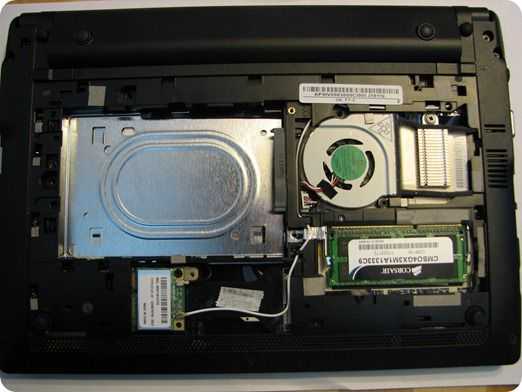 Statistics are all well and good but how does the device perform in real life with a fast SSD upgrade? In the video below I show the boot-up time and startup times for some common applications. On average, boot-up and application start times are cut by half which is a huge, huge difference.
Upgrade to Windows Home Premium 64-bit (and full 4GB RAM usage)
This part of the upgrade is useful on many levels. Importantly, you get to make a fresh install of the OS without the pre-installed services and software from Acer. Secondly, Windows Home Premium opens up more Windows 7 functionality including Windows Media Center, Aero and Themes and, importantly here,  the ability to access more than 2GB of RAM.
The license cost me about 85 Euros (OEM License) and installation was made on a clean SSD from an external USB DVD drive.
Drivers for the various Acer Aspire One 522 models are available here and can be copied from a USB stick (the Wi-Fi, LAN and SD card don't work on initial Windows 7 install.)
After install you should see this in the system settings.

Final Performance Check.
With Windows 7 Home Premium 64-bit, 4GB of RAM and the Runcore Pro IV SSD installed, here's a rundown of performance reports starting with the impressive disk scores which rise 30% above the 2GB, 32bit scores.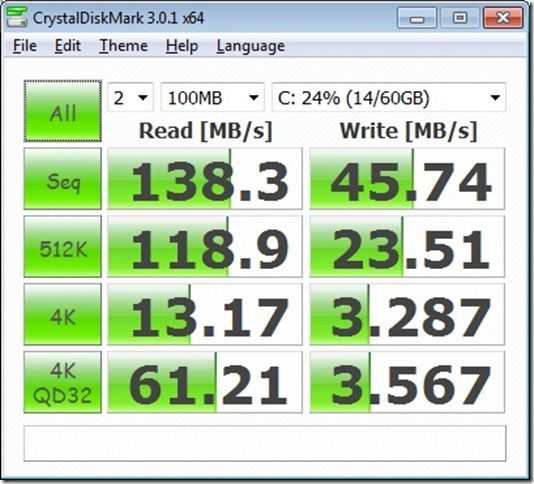 Yes, that's a 138MB/s transfer rate, on a netbook! Importantly, the small block read speeds are excellent.
Final Crystalmark score (Note: This is a 32bit test)
The two results were taken at different times with different Windows 7 themes.
Battery life, Noise, Heat
No differences in battery life, noise or heat were noticeable after the upgrade. There may be a measurable difference in battery life but I estimate no more than 5% gain under full-usage scenarios. Note that on the Aspire One 522, the fan is on nearly all the time. It's relatively quite but audible in a quiet room.
4GB vs 2GB
Having 4Gb of RAM available on a netbook is somewhat of an overkill and any applications that might require such memory are also going to require more CPU processing power than is available on the platform. The recommendation would be to buy a 2GB RAM stick although the small extra cost and zero additional effort of buying a 4GB stick means you might as well do it anyway! Remember that hibernation will be much slower with 4GB of RAM than with 2GB of RAM.
32bit vs 64bit
I'm not seeing clear, end-user advantages yet on the system build here but clearly there are some 64bit-capable programs that might take advantage of it. Cinebench 10 returned 1390 points with the 64-bit version compared to 1290 with the 32bit test – a 7.5% improvement. More testing is needed here and through my ultra-mobile video editing project, I should get some more results.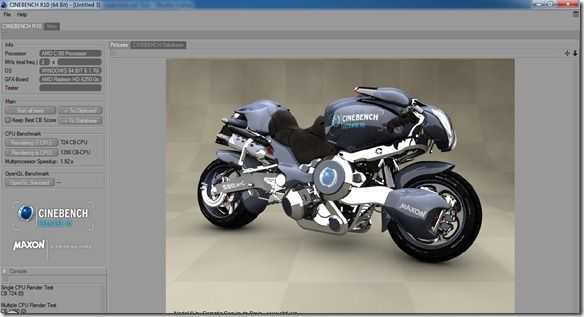 Windows 7 Starter vs Windows Home Premium
At over 80-euros to enable an extra 2GB of RAM, themes and a media center, it seems a little excessive and is something that needs to be considered carefully. A clean install of Windows 7 Home Starter on a fast SSD could be a better choice unless the user is looking to get every last drop of capability out of the system.
HDD vs SSD
There's no question that the SSD upgrade brings the best end-user improvements. SSDs can be lighter too but the user needs to be careful not to choose a slow SSD (some aren't built for speed.) I'm currently using a Runcore Pro IV that was loaned to me.
Lightweight SSDs.
I've got a 32Gb SSD here (Sandisk SDSA3AD-032G loaned by Tegatech)  that weighs 9gm. Thats 100gm lighter than the pre-installed solution and would bring the weight of the 522 down to under 1.1KG which is impressive given the CPU, GPU and battery life. Worth considering.
Alternatives and weight considerations
After the upgrades, the device returns much better performance but there are alternatives out there. The Asus Eee PC 1215PN with dual-core 1.6Ghz CPU and Nvidia Ion platform offers excellent CPU and graphics performance and we expect it to be available with 2GB and Windows Home Premium (as the 1.5Ghz version is) for around the 450 Euro mark. Add the SSD to this and you're at the same price with a much better performance. The weight is the same although you don't get the 1280×720 screen.
Looking at 12 inch devices it will be interesting to see how the 1215n and 1215b compare. Weight is 200-300gm more but performance gets a big boost. The EeePC 1215b is said to be available for 450 Euros and, it the end-user is happy with 300gm more weight, could be a better buy.
If the user is looking for a good value 10 inch device with HD screen and future upgrade steps, the Acer Aspire One 522 represents a very good deal indeed.
Will I keep the Acer Aspire One 522?
I've been impressed at the ability of the AMD Brazos platform to go to 4GB RAM and 64-bit Windows. The disk controller also responds well to a fast SSD. Overall, the 'balance' of CPU and GPU power is also good. The advantage of going to 4GB RAM is, however, a little over-the-top for a device that really can't be used for high-end memory intensive work that often requires high-end CPU power. What would make more sense is 4GB RAM in the higher-end Brazos platform with the dual-core 1.6Ghz 'Zacate' CPU and the higher-clocked GPU. If that platform can be down-clocked to a similar 1Ghz rate with the same power requirements as the 1Ghz Ontario part you will have an interesting power-efficient platform with a relatively wide dynamic range of processing capabilities. Unfortunately there are no Zacate-based device with the E-350 (Zacate) variant so you'll have to look at 12 inch solutions with higher screen power requirements and a weight of 200-300gm more. If 300gm is acceptable to you then taking a closer look at the Asus EeePC 1215b will make sense.  I'm expecting better battery life and more processing power than the successful Intel-based 1215n making it a top-candidate in its class. I will use the 522 for the time being now though as going back to the single-core N270-based Gigabyte Touchnote is not an option but when the 1215b is available, it will be at the top of the list for my next purchase and test.
Component and cost details
Aspire One 522 – 299 Euros (Germany)
SSD – Runcore Pro IV 64GB 2.5 inch SATA (Loaned for test by My Digital Discount) – $139.99
Memory – Corsair CMSO4GX3M1A1333C9. 4GB single module. 45 Euro
OS – Windows 7 Home Premium 64-bit English OEM – 83 Euros