There are rows and rows of accessory manufacturers at every computing expo and much of it is the same stuff over and over again. This Bluetooth keyboard case for the Galaxy Tab stood out though.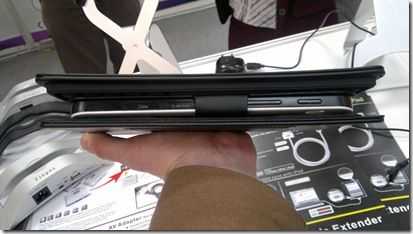 The keyboard was a rubber membrane design and in my short test I recon it was faster than thumb typing but you do need to concentrate hard. Still, it's a nice little compact solution if you're looking to assemble a smart-book-like device.
Rosen Groups, Shenzen, China are the people you need to contact if you fancy importing a box of these at $27.50 a piece. If you do, put me down for one please!
You'll also find a few other images in the gallery and check out their website for more info and stay tuned because we might be popping back to check out their Galaxy Tab stands and chargers too