In Part 1 of this series I covered three strategies for ultra mobile video editing and decided that the traditional, PC-based solution was the only real choice for today. I also set out some parameters.
The solution comes in three parts.
1 – The Camera
2 – The PC
3 – The Editing Software
The parameters I've set for the project are:
PC and software to cost less than 600 Euros
PC to be less than 1.5KG with 12 inch screen or less.
Total camera + PC solution to weigh less than 2KG and cost less than 1000 Euro
Source video should be 720p
Video sent to YouTube should be 480p minimum
Editing solution must include watermarking, overlays, crossfades, and multiple audio tracks.
I have personal requirements for the camera that mean it also needs to be able to take photographs for the site. It should also include self-shooting (front or swivel viewfinder), built-in stereo microphone. 28mm wide-angle capability. Good low-light performance and long zoom range for close-up to press conference zoom-ins. An external mic input and hot-shoe would be an advantage.
It this stage I have two cameras in mind. The Canon SX20IS and the new (currently unavailable) Fujifilm HS20 EXR which is said to have some good, and very helpful, low-light options. It doesn't have the self-shooting viewfinder though. I'm still looking at other solutions but for this post I want to refine the choice of PC down to a shortlist.
The current shortlist is shown below. Please feel free to propose alternatives.
12 inch Intel Atom solution: Asus 1215N (Intel N550 + Ion2 with 16-core CUDA) 1.45KG
12 inch AMD Fusion Solution: Asus 1215B (AMD E-350 APU) 1.4KG or HP DM1Z (AMD E-350)
Intel Core i3 solutions: Lenovo Edge 11 (Intel Core i3 – 1.5KG) or Acer Travelmate-8172T (Core i3 – 1.4KG)
Netbook solutions (*1): Samsung NC210 (N550 dual-core + 6-cells – 1.22Kg) or N350 (N550 + 3 cells – 1KG) or NF310 (N550 + 6 cells + 1366×768 screen – 1.3KG) or ASUS 1015PN (N550+Ion2 – 1.25KG)  or ASUS 1015B (AMD C-50) or Toshiba NB550D (AMD C-50) or Acer Aspire One 522 (with AMD C-50)
13 inch devices will remain out of scope because of size. I have to draw the line somewhere and I feel that 13 inch just goes beyond what is acceptable on a seat-back table, in one hand and in a small bag.
(*1) At this stage it seems fairly clear to me that a dual-core Intel Atom alone isn't going to be enough on its own to process 720P video which means the pure netbook solutions fall away leaving only the Ion2-enhanced Asus 1215N where CUDA could help push the performance. The E-350 CPU performance isn't a huge step forward from the N550 but with the 3D and HD decoding support, should help the editing experience and, possibly, a 720p-to-480p conversion stage that allows faster editing. Note that the ION2 in the Acer P1015PN doesn't have the CUDA core required for enhanced video rendering performance. The AMD C-50 based solutions aren't as powerful as Intel N550 for general purpose computing but do include video decoding support (not hardware encoding) which could help in a 720p to 480p pre-editing conversion process. Due to this, the NB550D and 1215B stay in the shortlist.
Interestingly, the new Intel Oaktrail platform includes 720p encoding and decoding in hardware. Unfortauntely this won't help much in the video rendering process where almost everything is done in software. It could help with a 720p to 480p conversion process before editing but the CPU and GPU is then unlikely to be strong enough to support a smooth video editing experience.
Am I considering tablets like the Hanvon B10 and the EeePC Slate E121? No, because being lap-capable is critical and inputting text around a video is a requirement for almost everyone. Adding a USB or Bluetooth keyboard is considered a point-of-failure and would bring the weight up by 200gm.
In summary, we have an entry point of 11.1 inch screen and a minimum weight of 1.3KG. I'm surprised that I can't find anything in the 1.0-1.2KG range. The only solutions available are all close to 1K Euro which puts them out of scope.
Prices of the items on the shortlist range from €300 to just over €600
Note: Why limit the price? I want to come up with a solution that as many people as possible can consider.
Where do we start?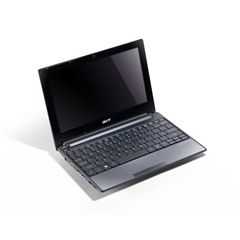 I will say now that I'm looking for someone that can supply these devices for testing because i'm not about to go out and buy 5 laptops so – Free series sponsorship to any reseller that can help us with this project – but I will put my own funds into the pot and start with the smallest, lightest, cheapest option. Later today I will be heading out to pick up the 299 Euro Acer Aspire One 522 with the AMD Fusion CPU and 720p screen. For that price, it would be stupid not to!
Update: Unboxing and first impressions article is now up.
Stay tuned because I'm likely to do a live session with it if I get it. (Follow @chippy on Twitter for  notifications.)