Update: Unboxing below.
The Acer Iconia Tab A500 (not the AMD/Windows based W500) looks like its taken second place in the race to get Honeycomb tablets to the streets. There's no more waiting in Taiwan because our friends Sascha and Nicole from netbooknews (German site) have already bought one!  Sascha wrote in his german site this morning that he's on his way to get one for the equivalent of 429 Euro and in a recent tweet he says – "Erste Eindruecke vom Acer Iconia Tab A500: Absolutes Schnaeppchen und einer der zukuenftigen Android 3.0 Bestseller! inch which means his first impressions are that it's an absolute bargain and a future best seller. Strong words Sascha. JKK and I will be questioning you about it in this weeks MeetMobility podcast (Live Friday, 11am Berlin time)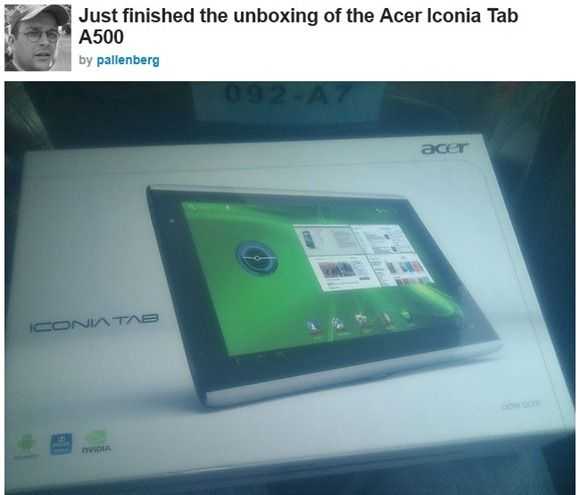 We'll update with the unboxing video from the netbooknews team after it airs, we suspect, later today. What we already know though is at that price, Acer is once again doing a great job of shaking up pricing. European availability is expected in a week or two in the 399-430 Euro range.
Unboxing is here (Via netbooknews)