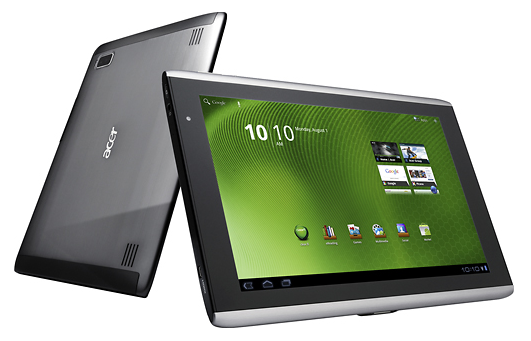 The days of highly priced, unaffordable tablets may well and  truly be numbered. The Acer Iconica Tab A500 has landed in the US market with prices starting at $450 for the WiFi model running Android 3.0 exclusively through BestBuy online.  This affordable price makes it more attractive to the budget conscious tablet buyer who may be looking at alternatives to the more expensive Motorola Xoom (WiFi only model) which has the equivalent hardware specifications.
Sean Hollister from Engadget has written up a comprehensive review of the Icon Tab A500 and provided a picture gallery.  He likes the brushed aluminum casing which gave the Acer a stylish edge over those tablets with plastic casings but was disappointed at some build quality issues such as the back creaking when squeezed with his fingers.
Listen to our Acer Iconia A500 hands-on podcast here.
Hollister seemed happy with the HDMI video connection and described it as "performing a full, responsive display mirroring at 720p resolution, albeit suffering from a bit of overscan. (Acer says 1080p video-out will be supported in a Q2 update) inch. He found the stereo speakers to be acceptable, the 10.1 inch, 1280×800 TFT LCD display surprisingly good and the capacitive touchscreen to be very responsive.  I think this a very encouraging trait in the A500 as more affordably priced tablets that I have used and reviewed has disappointed in both screen quality and responsiveness.
The reviewer seem pleased with performance of the A500's Tegra 2 with 1GB of DDR3 RAM when it performed slightly faster than the Motorola Xoom during his benchmark testing.
What appeared to be the biggest disappointment of the A500 to the reviewer was the battery life.  Hollister describes the battery life as the shortest (6hr 55 mins using Engadget's standard battery drain test) of all of the Android Honeycomb tablets Engadget has reviewed.  I am equally surprised as the Acer spots a pair of 3260mAh batteries, which puts it on par with other tablets such as the iPad and Xoom in terms of battery life.
From a pricing perspective, I feel that Acer has drawn first blood in launching an affordable Android 3.0 tablet with decent specifications that rivals the popular Motorola Xoom.  The A500 will certainly face stiff competition from Asus eeePad Transformer which is cheaper at $400 and features an innovative design with its optional keyboard dock.